Bears first-round draft pick Kevin White continues to make progress in his recovery from a stress fracture in his shin that has sidelined him since June.
After participating in individual drills in practice for the first time last week, White ran routes and caught passes on the field prior to Sunday game's against the 49ers.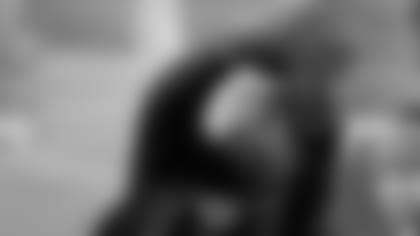 Bears first-round draft pick Kevin White catches a pass before Sunday's game as receivers coach Mike Groh looks on in the background.


"I think his leg is healed," coach John Fox said Monday. "Now it's a matter of getting into football shape where he's kind of been sidelined for some time."
White sustained the injury during OTAs in June and had surgery after suffering a setback in training camp. The seventh overall pick in this year's draft has been on the physically-unable-to-perform list since the summer.
The Bears opened White's 21-day practice window Nov. 24, giving them until Dec. 15 to decide whether to add him to their active roster or put him on season-ending injured reserve. That decision probably won't be made until just before the deadline.
"We'll evaluate that deal," Fox said Monday. "We have medical people that deal with him every day. And we'll continue to bring the football play element back into it. If he's cleared to play football, he'll be out there. If not, he won't."
Back to work: Fox expects Robbie Gould to rebound after the normally-reliable kicker missed two field-goal attempts in Sunday's overtime loss to the 49ers, including a 36-yarder on the final play of regulation that could have given the Bears a 23-20 win.
Gould made field goals of 40 and 51 yards in the first quarter before missing his next two attempts, including a 40-yarder early in the second half. He has now missed five of his last 14 attempts after opening the season by making his first 17 tries.
"I watched him kick a couple pretty good kicks [Sunday] as well," Fox said. "I think there was a game earlier this season where he may have missed a couple kicks.
"It's like anything. It's like missing a block, it's like missing a pass, it's like dropping a ball, giving up an explosive pass. That's why you play the game. You go back to work and try and get better and perfect your craft. You move onto the next one."
No cupcakes:** The 49ers were 3-8 overall and 0-5 on the road before their victory Sunday, but right tackle Kyle Long insists that the Bears didn't take San Francisco for granted.
"It's the NFL," Long said. "There really aren't many mismatches. It's not like you're playing an FBS team and you're a top-five FCS team. There are no cupcakes. Every week it's a struggle to get yards, it's a struggle to stop teams.
"You've got to give credit where credit is due. The 49ers came in and played a really good game. They obviously were prepared and they've got some really good football players."
"There's not a [junior varsity] squad they throw out there week-in and week-out," Fox added. "The only difference between people with good records and maybe not so good records is they've won more of their close games. There's not that big of a difference with these teams as you go through the schedule and who you play."
Little things are big: Long is notoriously hard on himself, and Monday was no different when he evaluated his performance in Sunday's loss.
"I struggled yesterday. I know that," Long said. "We'll look at the film and we'll find out that, I'm sure, we could've all been a little bit better. There were a number of plays where I was kicking myself on the way back to the huddle because I know we could've gotten 'X' amount of yards more because of the little things.
"It's the little things that separate wins and losses. That's the game of football. It's a brutally honest game."
No flex: The NFL on Monday confirmed that the Bears-Vikings game on Sunday, Dec. 20 in Minnesota will remain at noon (CT) and will not be flexed.