Appearing on the first Bears Coaches Show of the season this week on WBBM radio, John Fox discussed last Saturday's loss to the Chiefs and looked ahead to the regular season. Here are five things we learned:
(1) Fox is hopeful that Pro Bowl right guard Kyle Long will be ready for the Bears' season opener a week from Sunday against the Texans in Houston.
Long has been sidelined with a shoulder injury he sustained Aug. 18 in a preseason loss to the Patriots in New England. Fox described his level of optimism about Long's return as "very good" after watching him work out off to the side during Monday's practice.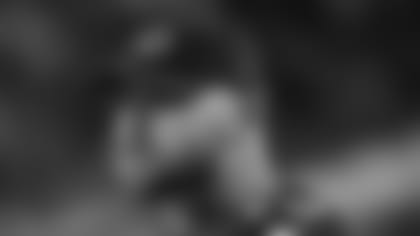 Right guard Kyle Long has been sidelined with a shoulder injury he sustained Aug. 18.


"He moved around, looked pretty active, actually did some blow-delivery things," Fox said. "It's a good start and hopefully he'll be full go here shortly."
(2) The Bears intend to play both second-string quarterback Brian Hoyer and third-stringer David Fales in Thursday night's preseason finale in Cleveland.
In last year's final exhibition game against the Browns, the Bears did not play second-stringer Jimmy Clausen. Fales started the contest and played nearly three full quarters, completing 14 of 18 passes for 131 yards with two touchdowns and a 134.0 passer rating.
A main reason that Hoyer will play Thursday night is that he's new to the Bears this year and needs as much game action as possible to be ready as Jay Cutler's backup. Fox said the Bears to "get him more and more comfortable moving into the regular season."
(3) Fox said that reserve quarterback Connor Shaw had surgery to repair a broken tibia and fibula and will remain with the Bears as he rehabs his injury.
Fox has praised Shaw for his attitude and his performance against the Chiefs; before getting hurt he connected on 5 of 6 passes for 68 yards with one TD and a 153.5 rating.
"We're very excited to have him in our organization," Fox said. "He made a big impression I know on his teammates as well as his coaches. That's why you hate to see something like that happen to that fine of a young man. But he'll be back in a stronger way and, as I told him, sometimes setbacks are setups for bigger stuff to happen."
(4) Fox was not happy with how the Bears played in their 23-7 loss to the Chiefs. In the first half alone, Kansas City held decisive advantages in total yards (239-20), first downs (16-2) and time of possession (21:54-8:06).
"Everybody was pretty disappointed in the performance," Fox said. "Being consistent, coming ready to play, especially at home, I think there's a lot to be fixed. That was probably as rough a first half as I've watched in a while and I'm sure it was for our fans, too.
"We just didn't perform very well. The first eight plays offensively we had eight missed assignments. So that doesn't help you. That's tough for anybody to overcome, including us. We're capable of better. We know it. Our players know it. Our staff knows it. Now we've just got to prove it.
(5) Fox didn't fault his players' effort against the Chiefs, but he does feel that some of them are playing too cautiously.
"When you practice and prepare like we do, basically it's an open book test," Fox said. "You script it, you know it, and when there are still errors, we're not making that transition right now as well as we need to be as far as knowing what to do, how to do it and being able to execute it under pressure.
"It's not a lack of effort. It's not a lack of want to. There's almost an [emphasis] on not making mistakes and you can't play football in the National Football League careful and cautious."