Watching tape of Sunday's 17-14 win over the Detroit Lions, Bears coach John Fox saw his team play with the most tenacity and fire it has displayed all season.
"Hopefully it was a new Chicago Bears," Fox said Monday at Halas Hall. "It was probably more emotional and gritty [than] we've played thus far. We haven't put 60 minutes together. I felt like yesterday was the first time we've done that.
"It was kind of the mindset all week. It was a big game. It was a division game. We hadn't beaten them in six attempts. I think guys were pretty fired up."
With the win, the Bears (1-3) matched their victory total from all of last season at Soldier Field and against NFC North opponents. It also snapped six-game skids at home and versus the Lions.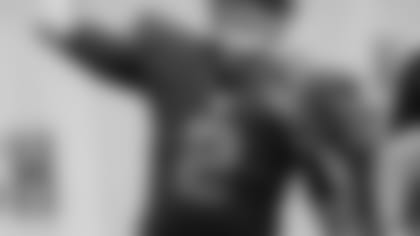 QB Brian Hoyer recorded a 120.1 passer rating against the Lions in Week 2.


Rookie running back Jordan Howard provided a much-needed boost on offense, rushing for 111 yards on 23 carries, a robust average of 4.8 yards per attempt.
"Physically he's a big body," Fox said. "He's got good feet. He's got good vision. His hands are better than I think we thought, even when we drafted him. He does have an even-keel demeanor. He's got going to go real high. He's not going to go real low. But he's a very instinctive football player. I think he has a good mindset, especially for a young guy."
Fox said that Howard reminds him of former NFL running back Stephen Davis, a three-time Pro Bowler who played for Fox with the Panthers from 2003-05.
"[Howard] has got good pad level and he is a big body to tackle," Fox said. "I thought Stephen had really good feet and good eyes and good vision to hit holes."
Another young player who performed well in Sunday's win was receiver Kevin White, who caught six passes for 55 yards before exiting in the second half with an ankle injury.
"I thought it was by far his best game," Fox said. "He was real aggressive. He caught some contested balls. I felt he was aggressive to get extra yards after the catch. I thought it was his best performance."
Fox also praised the Bears defense after it did not allow a touchdown for the first time since 2012. Cornerbacks Jacoby Glenn and Deiondre Hall intercepted Matthew Stafford passes and the run defense held the Lions to 66 yards on 18 carries, an average of 3.7 yards per attempt.
"We were pretty tenacious," Fox said. "We stopped the run pretty good. It was probably one of the better run defenses we've put up in the first quarter of the season."
The pass rush generated two sacks by defensive ends Akiem Hicks and Cornelius Washington.
"I thought it was better, but it still needs to get better," Fox said. "We had a couple guys nicked that gutted it out pretty good. We'll kind of evaluate that going forward. It was better yesterday, but it still needs to get better."
The play of the game on defense was generated by inside linebacker John Timu, who was promoted to the active roster last Tuesday after spending the first three weeks of the season on the Bears practice squad.
With the Lions facing third-and-goal from the 1 and trailing 7-3 early in the second half, Timu timed up the snap, knifed across the line and dropped running back Zach Zenner for a two-yard loss. Detroit settled for a 21-yard field goal, enabling the Bears to maintain a 7-6 lead.
"I've been talking about Timu from the day I first got here, just because of his athleticism, his mental views," Hicks said. "He picks up the game really fast. He comes up to the defensive line and tells us what we need to expect. That's something you appreciate from your linebacker.
"Your hand is in the dirt, you're trying to go forward and hit somebody. He's able to tell you, 'OK, this is what we're looking at. This is what's coming. This is what they run out of this formation.' He's a benefit for everybody."