INDIANAPOLIS – At last year's NFL Combine, Bears general manager Ryan Pace and coach John Fox told reporters that they were still evaluating Jay Cutler's future with the team.
Hired by the Bears the previous month, Pace and Fox knew what Cutler could do on the field but wanted to get to know him off the field before making a commitment to the quarterback.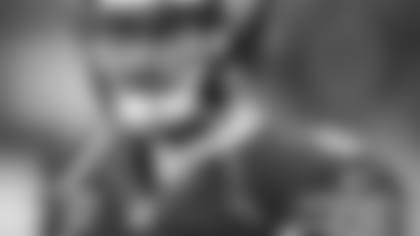 Bears coach John Fox praised quarterback Jay Cutler this week at the NFL Combine.


"I don't think there's any question that there's ability and talent there," Fox said at the time. "But there's a lot more that goes into it and we're evaluating that as we speak."
Pace and Fox ultimately decided to stick with Cutler—and he responded with his best season since joining the Bears in 2009 . The veteran quarterback recorded a career-high 92.3 passer rating and reduced his interceptions from 18 in 2014 to 11.
Unlike the wait-and-see approach that Fox discussed last February in Indianapolis, the Bears coach spoke glowingly about Cutler at this year's Combine.
"He was probably one of our brightest spots about our first year in Chicago," Fox said this week. "I saw way more about his mental toughness. I saw way more about how he can absorb an offense and execute it under pressure. I think that speaks volumes for how successful he was on third downs, which is a tough down for a quarterback in the NFL. I was very, very pleased with what I saw and what we have to work with going forward."
On the back burner: Rumors have circulated that the Bears intend to part ways with tight end Martellus Bennett, who is entering the final year of his contract.
When asked about Bennett's status at the Combine, Pace said: "We have a lot of players that aren't under contract, so that's where our focus is right now. You can categorize them in two different areas and he's in the other area right now."
Fox added that the Bears' top priorities at this point are evaluating the 330 or so prospects at the Combine and preparing for free agency, which begins March 9.
"The guys that are under contract, any decisions made on them moving forward will be very fluid," Fox said. "But the reality is that's on the back burner and we'll get more into that when it's appropriate."
Miller time: The Bears would like to re-sign tight end Zach Miller, one of 18 players on their roster who's slated to become an unrestricted free agent.
"What happens at this stage in the game is you understand the reality that a lot of times, these guys have to hit the open market to set their value," Pace said. "I understand that's the case with a lot of these positions. That's the necessary place that we're in right now. We like Zach. I don't want to go through every one of our UFAs, but he's a guy we'd want back and we're negotiating with him."
Miller's emergence was one of the feel-good stories of 2015. After missing the previous three full seasons due primarily to injuries, he caught 34 passes for 439 yards and a team-leading five touchdowns in the first 15 games before missing the season finale with a toe injury.
The success was a long time coming for Miller, who hadn't played in an NFL game since 2011. After appearing in 33 contests with five starts with the Jaguars from 2009-11, he spent the 2012 season on injured reserve with the Jaguars, failed to make the Buccaneers roster in 2013 and landed on injured reserve again with the Bears in 2014.
Man in the middle: Inside linebacker Shea McClellin is also set to become an unrestricted free agent. Playing his third different position since being selected by the Bears in the first round of the 2012 draft, he ranked third on the defense with 96 tackles last season but did not record a sack or interception.
"We like Shea," Pace said. "We feel like his arrow is still pointing up, especially at the inside linebacker position. I thought our defensive coaches did a great job with him. [Whether or not to re-sign him] is a decision we're going to have to make."