Bears coach John Fox delivered a succinct message to his players during a final team meeting Monday morning at Halas Hall.
"You've got to be better; 3-13 is not acceptable," inside linebacker Jerrell Freeman said when asked to recount the coach's words. "It's not acceptable to anybody in this room and if it is they don't need to be in this room.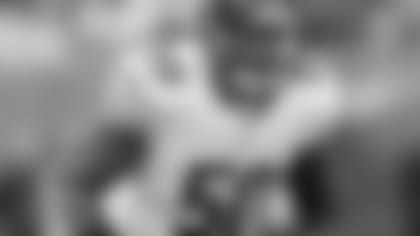 Linebacker Jerrell Freeman believes that John Fox has instilled an excellent work ethic in the team.


"We don't need anybody out here going through the motions and just riding along like, 'OK, I'm in the NFL.' You might be a one-star [player], but if you don't have a mentality like a five-star and want to get out there and train like it and study like it, you don't need to be here."
Although it wasn't reflected in the Bears' record this season, Freeman believes that Fox has instilled an excellent work ethic in the team.
"Regardless of who's in there, everybody's in there fighting," Freeman said. "I don't care who it is, even if we just picked the guys off the streets, we're going to fight. That's just what that is. It's the infectious attitude that Fox and everybody has. [Defensive coordinator Vic Fangio] also. It's just how we go out there and play. But it didn't turn into wins. We have to turn those into wins next year."
The key to rebounding in 2017, Freeman feels, is to hit the ground running when the offseason program begins in April.
"Go to work," Freeman said. "That's the only way you can do this. You can't go buy it at a store. You can't. So you just have to go out there and go to work. You have to have everybody on the same page and let's go."
The Bears were generally competitive over the second half of the season. Even during a 1-4 stretch they outscored their opponents 107-105, recording a 20-point win and losing by margins of six, six, three and three points. But that changed in the final two games when they were outscored 79-31 in blowout losses to the Redskins and Vikings.
After not allowing a run of more than 30 yards in the first 13 games, the Bears permitted runs of 61, 61, 42 and 36 yards in back-to-back losses to the Packers and Redskins. The Bears offense committed 14 turnovers in the last three games after having 17 in the first 13 contests.
"We've got to find consistency," Freeman said. "That's the mark of a great player and a great team, just being consistent. We've got to do that. We can't give up big plays. Those first 13 weeks, we were good. And then we started giving up big plays, big runs; all that type of stuff. We just have to be consistent and stay on the same page."