After signing left tackle Jermon Bushrod and tight end Martellus Bennett on the first day of free agency Tuesday, the Bears officially introduced their two new starters Wednesday at Halas Hall.
The free-agent acquisitions should immediately improve the team's offense. Bushrod is a two-time Pro Bowler who anchored the Saints' offensive line the past four seasons and helped New Orleans win the Super Bowl in 2009, while Bennett is a complete tight end who set career highs with 55 receptions, 626 yards and five touchdowns last season with the Giants.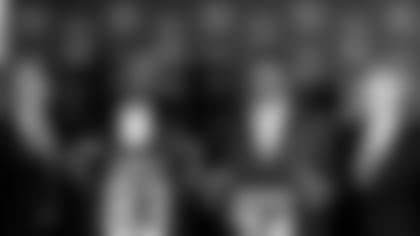 ](/multimedia/photo-gallery/Bennett-Bushrod-Press-Conference/bc289029-b435-44b3-97b9-97b6dee8fc17 "Click to view photo gallery")
Coach Marc Trestman and general manager Phil Emery flank new Bears starters Martellus Bennett and Jermon Bushrod. Click photo to view gallery.
"We were able to bring in two high-quality starters at key positions," said general manager Phil Emery.
"Key because the left tackle position is protecting the blind side of your quarterback. Key because we talked about at the end of this season getting better in the middle field area, that we have to find ways to get better in that area and we certainly feel that Martellus is going to help solve that problem."
In landing Bushrod and Bennett, the Bears were able to not only upgrade their starting left tackle position and add another offensive weapon but also create flexibility in the draft.
"We got two really fine people and very good players," said coach Marc Trestman. "We've got two quality guys, two guys that are ascending at their work at this stage of their lives. Every day we're going to try to get our team better and this was a great start to doing that."
The Bears are impressed with how Bennett has matured as a player. The 6-6, 265-pounder struggled at times early in his career accepting his role as the Cowboys' No. 2 tight end behind Jason Witten before flourishing with the Giants last year in his first season as a full-time NFL starter.
"Martellus Bennett has gone through a career transformation," Emery said. "He's taken a big step in the right direction and matured as a pro on and off the field. We see a player with a high upside that has taken that big initial step ... and had a very good year with the Giants. We're excited about where he's going as a player and we're excited about what he adds to the locker room."
A complete tight end, Bennett is expected to contribute as both a pass receiver and blocker.
"He is a guy who can do it on all three downs," Trestman said. "He's a very good blocker. He loves to block in the running game. He's got a high football IQ. He can handle the middle of the field and get open in the middle of the field. He can get vertical. He can extend. He can elevate."
Emery has also been impressed with how Bushrod has developed. The 6-5, 315-pounder became a Pro Bowler after entering the NFL as a fourth-round draft pick and appearing in only three games—all as a reserve—during his first two seasons with the Saints in 2007-08.
"Jermon's story is interesting," Emery said. "He didn't start right away, but he has started 62 of 66 games. [There are] a lot of attractive elements in terms of the player and the person.
"He's been a Super Bowl winner. That adds a lot to what we will have as far as a collective group in our locker room, not only from the offensive line standpoint but from a team standpoint. Bringing someone in who has been through a situation where you have won a Super Bowl adds a lot to the element of your team."
Emery lauded Bushrod's work ethic, leadership skills and ability to keep pass rushers off his quarterback.
"We're very glad he's here," Emery said. "Again, he adds great elements in terms of an upgrade at that position, a key position on the offensive line and team when you're developing a team, the left tackle position. You've got a high-quality athlete and a high-quality person."