Joint practices with the Colts last August in Indianapolis did more for the Bears than just help them prepare for the season. The sessions also gave at least one Colts veteran a chance to witness how Bears coach John Fox runs practice and interacts with his players.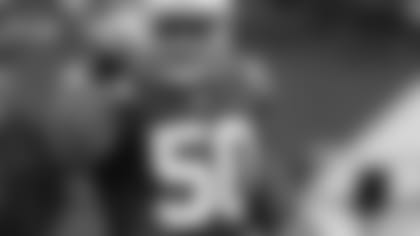 Despite last year's 6-10 record, Jerrell Freeman feels the Bears are headed in the right direction.
"My biggest impression was coach Fox," inside linebacker Jerrell Freeman said Saturday evening, shortly after signing a three-year contract with the Bears. "His whole attitude, he was always upbeat. He's a great coach. You can tell that his players love playing for him.

"It's just a great atmosphere. It's a big family over there, just like in Indianapolis. It's pretty similar with guys wanting to play for their coaches. Coach Fox is highly regarded. I saw that in training camp. He was laughing and joking with everyone, even [the Colts]."

Freeman was further impressed with how genuine Fox and others he met with—including general manager Ryan Pace and defensive coordinator Vic Fangio—were during a free-agent visit to Halas Hall this weekend.

"Coach Fox is going to shoot you straight," Freeman said. "He's not going to blow smoke up your you-know-what, and I got that from everybody, from him all the way up to Ryan and Fangio, talked to the linebackers coach. That's just how everybody is there."

Freeman spent the last four seasons with the Colts, starting all 57 games he played in and recording 478 tackles, 12 sacks, four interceptions (two of which he returned for touchdowns) and eight forced fumbles.

The Colts went 11-5 and made the playoffs in each of Freeman's first three seasons from 2012-14 before stumbling to an 8-8 mark in 2015. Although the Bears went 6-10 last season, Freeman is confident that his new team is headed in the right direction.

"I wasn't really worried about the Bears record," he said. "I was looking at the pieces. The pieces are there. I was definitely interested in Chicago from the start."

Asked about those pieces, Freeman said: "Even in training camp, that was an eye-opener to how good the team is. You can't really do anything, can't have a chance without a quarterback and Jay Cutler definitely has all the tools and everything to be a great quarterback. They've got a couple of good receivers coming back, some good, young running backs. The defense is coming on and hopefully I can add another piece to that puzzle."

Freeman took an unorthodox route to the NFL. He played collegiately at the University of Mary Hardin-Baylor, a Division III school in Texas, and then spent three seasons in the Canadian Football League with the Saskatchewan Roughriders from 2009-11 before joining the Colts.

Overcoming astronomical odds and proving so many doubters wrong will always motivate the new Bears linebacker.

"That chip on my shoulder is never going to get knocked off," Freeman said. "It's always going to be there and it's kind of shaped the kind of player that I am—the aggressiveness, the recklessness, just out there running around because I can really appreciate where I've come from. A lot of people counted me out in a lot of different situations. So I definitely carry that chip."

Freeman is eager to join fellow free agent acquisition and inside linebacker Danny Trevathan in the middle of the Bears defense.

"I think my greatest strength is understanding and knowing my job and understanding the defense," Freeman said. "I'm a big studier. You don't know much about D-III guys, but we don't get athletic scholarships; we get academic ones. Speed, and run around and tackle, there are a lot of things that make me who I am. I guess that's what attracted Chicago to me, and I'm glad."