Jerrell Freeman spends a lot of time thinking about his grandfather, Sidney Bigham, who passed away shortly before the Bears linebacker headed off to college.
"He's probably the one person that I wish could see me [playing in the NFL]," Freeman said. "His personality and sense of humor ... I just love being around him."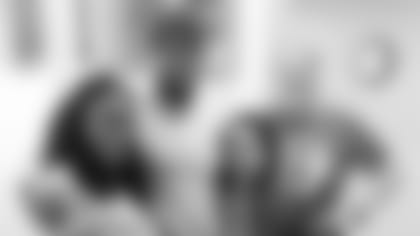 Bears linebacker Jerrell Freeman poses with veterans Tuesday during his visit to the Rush University Medical Center.


Spending summers in Marlin, Texas, visiting his grandfather, a World War II veteran, gave Freeman an appreciation for the military that remains just as strong today.
The Bears linebacker provides tickets for the military representatives that are honored at each home game as well as to other veterans through the Road Home Program, which provides confidential support, counseling and health services for veterans and their families at Rush University Medical Center in Chicago.
Freeman visited veterans at Rush Tuesday, signing autographs and posing for photos. Since 2014, Bears Care has awarded the Road Home Program $100,000 annually to support its Child & Family Services programming.
As a result of his commitment to supporting the military community, Freeman has been named the Bears nominee for the sixth annual "Salute to Service Award presented by USAA."
"I just feel that veterans are so underappreciated," Freeman said. "They come back and can't even get a job? I see them on streets, on corners. I give them money. I feel genuinely bad.
"For everything they've done, what are (football) tickets? I could never repay them for what they've sacrificed, going and fighting for us. It's the least I could do. I think everyone should do more to show their appreciation to veterans, just to realize what they've done, what they've been through and what they bring back with them once they come back from war."
Finalists for the Salute to Service Award will be announced in January. The winner will be recognized at the "6th Annual NFL Honors" awards show in Houston on FOX on Saturday, Feb. 4, the night before the Super Bowl.
Past winners of the award include two former Bears, cornerback Charles Tillman in 2012 and defensive end Jared Allen in 2014.