Facing his former team Sunday in Indianapolis figures to be special for Bears inside linebacker Jerrell Freeman. After all, the Colts enabled him to fulfill his dream by playing in the NFL and he remains friends with several of their players.
But if you think that Freeman will approach the game any differently than any other, you don't know much about his mentality or the permanent chip on his shoulder.
"I go into every game with the same amount of passion," Freeman said. "If I didn't do that, I'd be doing a discredit to myself. I go into this game with the same amount of tenacity as any other game. I'm always passionate. I'm always aggressive. I'm always tenacious. "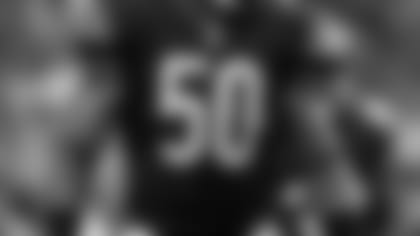 Freeman played for the Colts from 2012-2015. He currently has the Bears team-high in tackles with 41.


That tenacity stems from the unorthodox journey that Freeman took to the NFL. He played at a Division III college in Mary Hardin-Baylor and then spent three seasons in the Canadian Football League with the Saskatchewan Roughriders before joining the Colts.
Freeman was highly-productive in Indianapolis, starting all 57 games he played the past four years and recording 478 tackles, 12 sacks, four interceptions and eight forced fumbles. The Colts, however, did not re-sign Freeman and he inked a three-year deal with the Bears in March.
As he prepares to face his former team for the first time, Freeman insists that he has no hard feelings.
"It's a business; you can't take things personally," Freeman said. "It was their decision that the best thing for their organization was to let me walk, so it is what it is. I can't take it personal. They're doing what they think is right for their organization, so it's just how it goes."
Colts head coach Chuck Pagano was asked about Freeman's departure this week during a conference call with the Chicago media.
"Roster mechanics are roster mechanics," Pagano said. "There's obviously a ton of dialogue and you'd love to keep them all. But as you know, you can't. You don't want to lose anybody. But this is the National Football League. You've got a cap and you've got decisions to make and all that stuff. But you don't want to lose anybody and wish we could keep them all."
Pagano still holds Freeman in very high regard.
"Jerrell's a great guy, a great player," Pagano said. "Love Jerrell. We talk about relationships around here. It's about football, but it's about family. It's about a brotherhood.
"Jerrell, I've got the utmost respect for as a ballplayer and more importantly as a man for how he plays this game. He plays it the way it's supposed to be played. Love Jerrell and have great respect for him. We're going to see him on Sunday and I know exactly and our guys know exactly what we're going to get."
Freeman has played with the same toughness, passion and physicality with the Bears that he displayed with the Colts. He's been one of the few constants on a Chicago defense that's been decimated by injuries, leading the unit with 41 tackles and four tackles-for-loss.
As he prepares for Sunday's game, Freeman knows how dangerous Colts quarterback Andrew Luck can be. The talented passer nearly helped the Colts erase a 17-point fourth-quarter deficit last Sunday in an eventual 30-27 loss to the Jaguars in London.
"I think very highly of Andrew," Freeman said. "I really think he's one of those once-in-a-generation type players. Talking to him, you realize he's one of the smartest people you'll ever be around. His athletic ability, his arm and everything, I think highly of him, [running back] Frank [Gore], everyone around there.
"It's going to be tough. They can be down 30 and those guys over there, trust me, those guys always think they have a chance if they've got '12' back there."