Bad news seems to hit the Bears on a pretty regular basis these days and Monday was no exception.
One day after the team fell to 2-8 with a loss to the Giants, inside linebacker Jerrell Freeman was suspended four games for violating the NFL policy on performance enhancing substances. Last week, star receiver Alshon Jeffery was also suspended four games for the same reason.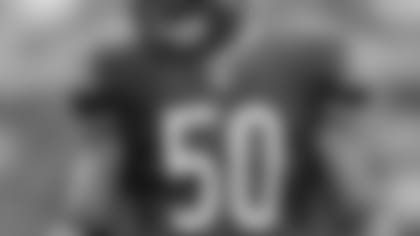 Inside linebacker Jerrell Freeman was suspended four games for violating the NFL policy on performance enhancing substances.


"Much like Alshon, I'm very disappointed," coach John Fox said Monday at Halas Hall. "These guys understand all the parameters of the drug testing involved in our league. But much like Alshon, we move on and we'll move on without Jerrell."
Freeman will miss upcoming contests against the Titans, 49ers, Lions and Packers and will be eligible to return to play in the final two games of the season versus the Redskins and Vikings.
Freeman released the following statement Monday: "I would like to apologize to my coaches, teammates, the Bears organization and Bears fans for the embarrassment I've caused myself and them. I made a mistake with my prescription medication for which I take full responsibility.
"As players in the NFL we're educated on the parameters regarding substances which go into our bodies and I've prided myself on doing the right thing throughout my career. I look forward to getting back on the playing field in four weeks and finishing the season on a positive note."
When Jeffery was suspended last week, Fox said that players are warned "400 times" about being responsible for everything they put in their bodies.
"Much like anything, whether it's DUIs or speeding tickets, I think people understand the rules, but they get broken," Fox said Monday. "That's typically a player's responsibility to know what they put in their body and we have pretty strict things while they're in this building. But they do leave the building, usually around five o'clock every day."
Fox acknowledged that the PED suspensions don't reflect very well on the Bears.
"It puts us in a tough spot," said the head coach. "That's why you usually see apologies is I think they understand that and it's obviously a mistake and one they typically regret."
Freeman signed with the Bears in March after spending his first four NFL seasons with the Colts. He has appeared in all 10 games this year and leads the Bears with 92 tackles while also recording six tackles-for-loss and one forced fumble.
"He's the quarterback of our defense," said cornerback Tracy Porter. "He gets us aligned. He's a leading tackler on the team. He's definitely a presence that's going to be missed. But we have guys that are behind him, that study with him, that he mentors. So when those guys step up, we're going to look for them to fill that void."
Rookie fourth-round pick Nick Kwiatkoski is listed as Freeman's backup on the Bears depth chart.
"He's a young guy," Porter said. "He's got to continue to get that experience. We have belief in him. He's athletic. He can run around. He can make the calls. He can get guys lined up.
"He's going to have to continue to get more and more experience. He's going to have to be in the film room, be in his playbook a little bit more because now he's getting more of a load on his plate because he's pretty much going to be the guy calling the defense for us come Sunday."