After completing his four-game suspension, inside linebacker Jerrell Freeman rejoined the Bears Monday and practiced Tuesday for the first time in more than a month.
"The hardest part about being out was not being able to get out there and go fight with my brothers," Freeman said. "I saw them fighting on TV. It was rough for me to watch that. I'm happy to be back in the building."
Freeman was suspended for violating the NFL policy on performance-enhancing substances. He told reporters that it resulted from an issue with a prescription medicine and said Tuesday that he started the appeal process before the beginning of the regular season.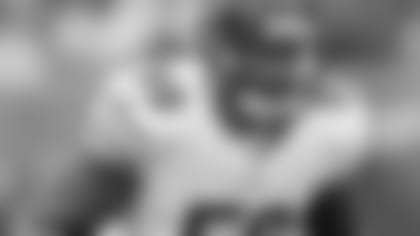 Inside linebacker Jerrell Freeman rejoined the Bears Monday and practiced Tuesday for the first time in more than a month.


"You've got to complete a process," Freeman said. "Regardless of whether I thought it was [legal] or not, that's my responsibility. I get paid to know things like that.
"It was from before the year even started. It was a while ago. I'm looking to move on. I talked to my guys. My guys have been riding with me. They know and understand the situation. It's all my fault, though. I can't blame anybody but me."
Freeman signed with the Bears in March after spending his first four NFL seasons with the Colts. Even after missing four games, he still leads the team with 91 tackles.
"To come into a new system and learn it and pick it up and have to be the middle linebacker and be at the middle of all and be the focal point for making the calls, he was doing a good job for us," said defensive coordinator Vic Fangio.
Asked what he expects from Freeman in the final two games of the season, Fangio said: "Just get back to the way he was playing and hopefully even a little bit better. We'll see where he's at, see what he's done physically the last four weeks and expect him to pick up where he left off."
Freeman is concerned that he won't be as sharp when he returns to game action following his hiatus.
"That's probably the biggest thing, being a little rusty, seeing things," Freeman said. "There are a lot of different calls. I wasn't able to have the playbook or anything for four weeks."
Freeman spent parts of his suspension back home in Texas as well as Atlanta. He continued to work out but realizes that nothing takes the place of actual live game reps.
"You can't be in football shape without playing football," he said. "I was going out there and running and working out like offseason workouts. But you can't really simulate football."
Freeman, who is under contract with the Bears through the 2018 season, insisted that he's not worried the suspension will hurt his reputation.
"People know me," he said. "People know who I am. People know what I'm about. I wouldn't do that on purpose. But it is what it is. I made a mistake and that's what it is. It's not like I was going out of my way to do something. But it happened. It's my fault and I take responsibility for it."