BOURBONNAIS, Ill. — Isaiah Frey was standing on the sideline late in Monday's practice when he reached up and caught a pass that Jay Cutler had thrown out of bounds to avoid a sack.
It was a fitting development given all of the plays the promising young cornerback has made in training camp when he's actually been on the field.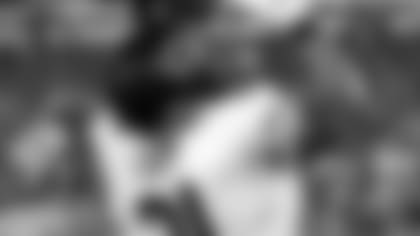 Bears cornerback Isaiah Frey intercepts a pass last summer in a preseason game against the New York Giants.
"It seems like the ball is kind of a magnet towards me right now," Frey said with a smile. "I've just got to keep making the plays."
After being selected in the sixth round of the 2012 draft out of Nevada, Frey spent his entire rookie season on the Bears' practice squad.
A year later, the 5-11, 190-pounder has been one of the most consistently productive players in training camp, routinely getting his hands on passes as he pushes for not only a roster spot but playing time on a veteran defense.
"I like him," said first-year defensive coordinator Mel Tucker. "I'm pulling for him because every day he comes out with a great attitude. He's got a smile on his face.
"He's not playing cautious. He's looking to make plays. He's doing what he's coached to do. That's what you're looking for out of young players. He's a great young man, and we're just really excited about the progress he's been making out here on a day-to-day basis."
Frey is excelling because he's playing with confidence and has a better knowledge of the defense after being in the system for more than a year and watching Charles Tillman and Tim Jennings.
"I know a lot more of the defense this year," Frey said. "I was able to sit back and watch Peanut and Tim last year and I learned a lot from those dudes. I had two Pro Bowl starters in front of me and I got to sit back and watch how they prepared for the game and how they played in the game. I became a better player because of those guys."
Listed third on the depth chart at right cornerback behind Tillman and Kelvin Hayden, Frey has worked with the No. 1 defense at nickel back since Hayden exited Saturday night's Family Fest practice at Soldier Field with a hamstring injury.
"It's a good opportunity, but Kelvin's the starting nickel and I'm just taking his place right now," Frey said. "Hopefully he can get healthy."
Frey made the most of his chance to play with the first-team defense early in Monday's practice, intercepting a Cutler pass over the middle after tight end Martellus Bennett slipped to the ground.
"Whether another player fell down or not, [Frey] made another play," said coach Marc Trestman. "He's shown up each and every day and certainly with Kelvin down now and being week-to-week, [Frey's] ability to play nickel and play the corner and be part of the mix in finding the best group of DBs and corners that we can, it's going to be very important."
Frey no doubt would have preferred to have played last season. But he still developed while on the practice squad, thanks in part to defensive backs coach Jon Hoke.
"It was tough at first," Frey said. "But coach Hoke kept me involved. He had me do some preparation things for the team; study opponents and bring it back and present it to the team."
With the Bears set to open their preseason slate Friday night on the road against the Carolina Panthers, coaches are hoping that Frey continues to ascend.
"He's done a nice job so far, he really has," Tucker said. "He's competing well. He's making quick decisions. He's playing with confidence and seems like he's getting better on a daily basis. That's what you like to see out of young players."