After an impressive start to his career, Bears cornerback Kyle Fuller on Thursday was named the NFL Defensive Rookie of the Month for September.
After four games, the first-round draft pick from Virginia Tech is tied for the NFL lead with three interceptions and tied for second in the league with two forced fumbles.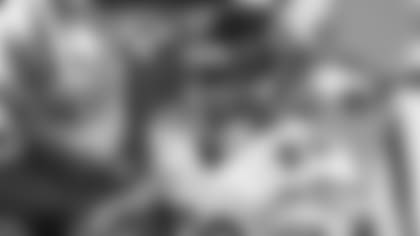 Rookie Kyle Fuller fueled a comeback win over the 49ers with two fourth-quarter interceptions.
Fuller, who leads all rookies in both categories, is the only NFL player in the last 20 years with at least three interceptions and two forced fumbles in the first month of the season.
"The most important thing has been to go out there every day and be consistent and learn from things that I can get better at," said Fuller, the 14th pick in the 2014 draft.
Fuller was named NFC Defensive Player of the Week after intercepting two Colin Kaepernick passes Sept. 14 in the fourth quarter of a 28-20 comeback win over the San Francisco 49ers.
Fuller became the first Bears rookie with two picks in one game since Chris Harris, now a Bears defensive assistant, accomplished the feat on Dec. 25, 2005 in Green Bay. The two picks led to a pair of 3-yard touchdown passes from Jay Cutler to Martellus Bennett and Brandon Marshall.
Making his first NFL start a week later, Fuller intercepted another pass and forced two fumbles in a 27-19 road victory over the New York Jets.
After playing cornerback in nickel situations the first two games, Fuller assumed the job on a full-time basis when veteran Kyle Fuller suffered a season-ending injury against the 49ers.
"It was a little bit of an adjustment having to prepare to play every snap, not that I wasn't preparing that way before," Fuller said. "You just have to have your mind ready and make sure you're prepared."
When Fuller forced two fumbles against the Jets, many assumed he had learned the "Peanut Punch" from Tillman, who has perfectly the art of punching the ball away from opponents, forcing 42 fumbles in 11 seasons with the Bears. But Tillman wouldn't accept any credit.
"I think that's all him," Tillman said this week during an appearance on WSCR-AM 670. "That's Kyle being a great athlete. Kudos to him."
Fuller is the third Bears player to be named NFL Defensive Rookie of the Month, joining middle linebacker Brian Urlacher (October 2000) and defensive end Mark Anderson (October 2006).
In addition, Fuller is the first cornerback to be honored as the NFL Defensive Rookie of the Month in the first month of a season since the Redskins' Fred Smoot in 2001.
"I like how humble [Fuller] is," Tillman said. "He doesn't say a lot. He just does his job and goes about his business. I think he will be a great player in this league. I've made a name for myself and I want Kyle Fuller to make a name for himself, and he's on the right path."