Bears cornerback Kyle Fuller and punter Pat O'Donnell have been selected to the Pro Football Writers of America (PFWA) 2014 NFL All-Rookie team.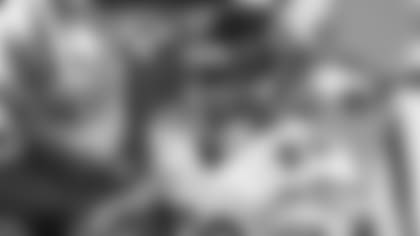 Rookie Kyle Fuller had two interceptions in the Bears' Week 2 win over the San Francisco 49ers.
Selected by the Bears in the first round of the draft, Fuller appeared in all 16 games with 14 starts despite breaking his hand midway through the season. He tied for the team lead with four interceptions and also recorded 73 tackles, nine pass breakups and three forced fumbles.
Fuller was one of just two NFL players with at least three interceptions and three forced fumbles in 2014, joining Detroit Lions safety James Ihedigbo. Fuller is just the fifth NFL rookie to accomplish that feat since 1990, when Bears safety Mark Carrier had 10 interceptions and five forced fumbles.
Fuller is the sixth Bears player to lead NFL rookies in interceptions since 1940, following J.C. Caroline (6 in 1956), Dick Butkus (5 in 1965), Carrier, Brian Urlacher (2 in 2000) and Kyle Fuller (4 in 2003).
Fuller had interceptions on back-to-back possessions in the fourth quarter of a Week 2 win over the 49ers in San Francisco, setting up two touchdowns that helped the Bears turn a 21-7 deficit into a 28-20 victory. As a result, he became the first Bears rookie with two interceptions in a game since Chris Harris in 2005.
O'Donnell was the only punter selected in the 2014 NFL Draft. Chosen by the Bears in the sixth round, he averaged 43.8 yards while placing 20 of 71 punts inside-the-20 with just three touchbacks.