With only one player on their injury report, the Bears appear to be healthier than the Eagles as the two teams prepare for Monday night's game at Soldier Field.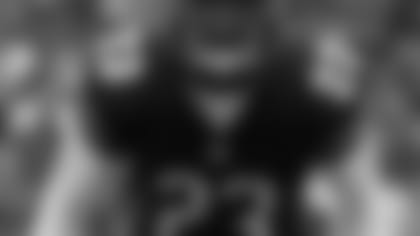 Kyle Fuller was listed as questionable after being limited in practice again Saturday.


Cornerback Kyle Fuller, who continues to recover from arthroscopic knee surgery, was listed as questionable after being limited in practice again Saturday.
The Bears had nine players on their injury report last week—all listed as questionable—heading into their season opener against the Texans in Houston.
The Eagles will play without two key starters Monday night in tight end Zach Ertz (rib) and cornerback Leodis McKelvin (hamstring), both of whom were ruled out Saturday.
In the season opener, Jacoby Glenn started in place of Fuller and rookie Deiondre Hall also saw action. Asked if Fuller will return as the starter, Fox said: "The first order of business is to get Kyle healthy, and until he gets healthy, I don't know if he can compete for some spot on the depth chart. So one's got to happen before the other happens."
Something to prove: Receiver Alshon Jeffery, who caught four passes for 105 yards last Sunday against the Texans, seems to be playing with more of an edge than ever before.
The five-year veteran, who's playing under the franchise tag this season, was limited to nine games last year due to injuries after playing in all 32 games in 2013-14.
"I think typically whenever you franchise a guy there is going to be something they are going to want to prove, a little chip on their shoulder, and Alshon is no different," said quarterback Jay Cutler. "He sees himself at a certain value and he wants to earn it. He knows it's not going to happen by chance.
"He's always been a hard worker. Last year was kind of an outlier of a season for him because he's always been a guy that's been out there, worked hard and showed up on Sundays. This year I think he is just a little more determined than ever, which is good for
Getting to know you: Eagles rookie quarterback Carson Wentz, the second overall pick in the NFL Draft, visited the Bears during the pre-draft process.
"We had him in, got to know him a little bit," said offensive coordinator Dowell Loggains. "Unique guy. Very talented. Big and athletic. Really smart kid. You can tell he's going to be a very hard worker. He was very impressive."
Wentz was impressive in his NFL debut, passing for 278 yards and two touchdowns with no turnovers last Sunday in a 29-10 win over the Cleveland Browns.
Impact player: Even though Eddie Royal missed the entire preseason and most of training camp with a concussion, special teams coordinator Jeff Rodgers was confident that the veteran would make an impact play in the return game in last Sunday's season opener.
Royal delivered with a 31-yard punt return.
"Eddie's performance in the game is similar to what we thought we'd get," Rodgers said. "We got the kick we thought we'd get and the guys did a good job blocking in the open field. Eddie did a good job turning the corner and he's a dynamic player when he's healthy and he was healthy on Sunday and that's what we expect from Eddie."