Cornerback Kyle Fuller produced the play of the day in Monday's practice, stripping the ball out of tight end Martellus Bennett's hands in the end zone to prevent a touchdown.
Bennett leaped high over Fuller to pluck a pass out of the air, but Fuller took three or four swipes at the ball as the tight end fell to the ground before finally knocking it loose. The play would have been ruled an incomplete pass because Bennett did not complete the process of a catch.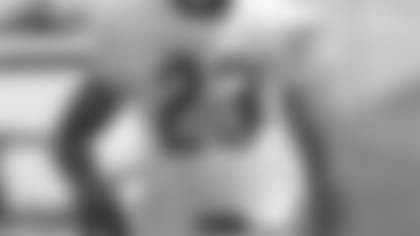 Kyle Fuller was selected by the Bears with the 14th overall pick in the 2014 NFL Draft.
"I knew the ball was going to be thrown high," Fuller said. "I felt him go up for it but still figured I'd keep on trying to get it as it was coming down. You've got to compete all the way through and it turned out I was able to get the ball out."
Making plays on the ball is nothing new for Fuller, who led the Bears as a rookie last year with nine pass breakups and three forced fumbles and tied for the team lead with four interceptions. With a year of experience, he's primed to make an even bigger impact in 2015.
"You definitely feel more comfortable as far as just knowing how things are done," Fuller said. "Knowing what to expect out there just comes with having a year under your belt."
One of the most important things that Fuller learned as a rookie was how to take care of his body during the grind of a 16-game NFL season.
"You know what you have to do to go out there and perform at your best," Fuller said. "You have to make sure you're eating right, drinking water, stretching; all the stuff you have to do to get your body ready to go every day."
On the shelf: Rookie receiver Kevin White continues to recover from a shin injury he suffered last month during OTA workouts. The first-round draft pick opened training camp on the physically unable to perform list and has missed the Bears' first five practices in Bourbonnais.
"I think he's making headway," coach John Fox said Monday. "He's been on the shelf for six weeks. His conditioning level, even soft tissue, just building him back to getting a chance to come back and play football instead of just throwing him out there."
White can be removed from the PUP list and begin practicing at any point. While the Bears have stated that it's "not a long-term problem," no timetable for his return has been revealed.
"Again, I'm looking at day-to-day," Fox said. "I can't predict. Sooner rather than later is what I hope. But it's just a hope."
Tough stretch: Rookie safety Adrian Amos has a new perspective on life after seven of his relatives—including a grandmother and grandfather—passed away over a recent two-year span.
"It taught me life is short and enjoy every moment," said the fifth-round pick from Penn State. "Tell your loved ones you love them. Live every day, every moment because you never know when God is going to call you home."
Camp notes: Receiver Alshon Jeffery sat out Monday's practice with a minor shoulder sprain he sustained Sunday... Cornerback Alan Ball also did not participate due to a foot injury... Tight end Brian Vogler exited with a foot injury... Cornerback Al Louis-Jean intercepted an underthrown Jimmy Clausen pass, while safeties Sherrod Martin and Anthony Jefferson both picked off Shane Carden... Bennett made a nice one-handed catch of a Jay Cutler pass... Receiver Levi Norwood reached out to haul in a Carden pass across the middle.