Bears rookie cornerback Kyle Fuller has been named the NFC defensive player of the week for his performance in Sunday night's comeback win over the San Francisco 49ers.
Subbing for the injured Kyle Fuller, the first-round draft pick intercepted two Colin Kaepernick passes in the fourth quarter to help the Bears turn a 20-7 deficit into a stunning 28-20 victory.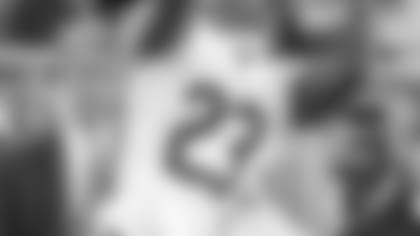 Kyle Fuller intercepts his second pass in Sunday night's win over the 49ers.
Fuller's first interception came when he snatched Kaepernick's pass away from receiver Michael Crabtree, jumped to his feet and returned it to the San Francisco 6, setting up a touchdown.
"[I was] breaking on the ball, getting to the receiver first so that if I can't get an interception I can at least get a [pass breakup]," Fuller said. "And then late I realized how close I was to be able to get a hand in there, and the ball was still in air to get the interception."
Fuller struck again on the 49ers' next possession, drifting over to intercept Kaepernick's pass intended for tight end Derek Carrier and returning it 18 yards to the San Francisco 42. The Bears followed by scoring a touchdown on their fourth straight possession.
"It really just comes down to using my technique and fundamentals," Fuller said. "The coaches, we talk about it all the time as far as one sits down, you still have to take care of two going vertical. I was just doing what I'm taught, doing what I'm working on every day."
Fuller became the first Bears rookie to intercept two passes in a game since Chris Harris, who's now an assistant coach with the team, accomplished the feat in 2005. Fuller also became the first Bears rookie cornerback to win a defensive player of the week award.
With Tillman out for the rest of the season after tearing his right triceps against the Bills, Fuller will become a full-time starter at cornerback opposite Tim Jennings.
"I hate to see that for Charles, a guy that I was definitely learning a lot from," Fuller said. "But I also feel I can still learn a lot from him. Like I said, I hate that for him. I will pray for him. But we have to step up and hold it down."