Mitchell Trubisky provided the spark the Bears were anticipating in his first NFL start Monday night, extending plays with his athleticism and throwing accurately on the run.
But the second overall pick in the draft also experienced the ups and downs that are common for rookie quarterbacks in a 20-17 loss to the Minnesota Vikings at Soldier Field.
Trubisky valiantly rallied the Bears from a 17-9 deficit early in the fourth quarter, forging a 17-17 tie with a 20-yard touchdown pass to tight end Zach Miller coupled with a two-point conversion run by the quarterback on a trick play that looked like it came from a schoolyard game.
But then when the Bears took over at their own 10 with 2:32 to play, Trubisky's pass intended for Miller was intercepted by safety Harrison Smith, who was tackled at the Chicago 28. The pick set up Kai Forbath's game-winning 26-yard field goal with :12 remaining.
The loss dropped the Bears to 1-4 on the season.
Trubisky completed 12 of 25 passes for 128 yards with one touchdown, one interception and a 60.1 passer rating. The rookie quarterback also rushed for 22 yards on three carries.
"He's got what it takes; there's no doubt in my mind," said coach John Fox. "For a first game, I go back to watching guys like [Joe] Montana in his first game. I've seen a few of them. I'm not making comparisons at this point. But he will do nothing but get better."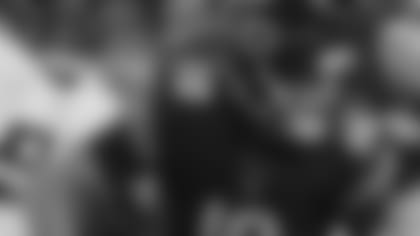 Bears quarterback Mitchell Trubisky escapes the rush in Monday night's 20-17 loss to the Minnesota Vikings.


Trubisky did not receive the support from his teammates he needed, especially in the first half. The Bears offense committed six penalties in the game's first 20 minutes, including a holding infraction on receiver Markus Wheaton that nullified Jordan Howard's 42-yard touchdown run.
"I thought [Trubisky] was really good," Miller said. "He extended plays for us, made plays downfield, made plays with his legs, put us in position to win that game. What we need to do is be better, collectively, around him. Too many pre-snap penalties, too many plays breaking down technique. I think he did everything he could for us to win that game. I'm excited for his future."
The Bears' seven first-half possessions resulted in six punts and a turnover. On the six drives that ended with punts, the offense faced situations of third-and-20, third-and-12, third-and-12, third-and-15, third-and-13 and third-and-20.
"In the first half, we kind of shot ourselves in the foot," Fox said. "We had good field position, our defense was playing really well and we took ourselves out of field position, taking points off the board with penalties."
The Bears defense allowed just 55 yards and four first downs in the first half. The unit also generated the first points of the game as Leonard Floyd sacked Sam Bradford in the end zone for a safety, giving the Bears a 2-0 lead late in the first quarter.
The only points the defense allowed in the first half came on Forbath's 26-yard field goal late in the second period—after the Vikings had taken over at the Bears' 13 following a blindside strip/sack of Trubisky by defensive end Everson Griffen, who beat left tackle Charles Leno Jr.
The Vikings replaced an ineffective Bradford with Case Keenum late in the second quarter and the move paid dividends. Keenum opened the second half by engineering a 13-play, 76-yard drive he capped with a 13-yard touchdown pass to Kyle Rudolph, giving Minnesota a 10-2 lead.
Still struggling on offense, the Bears reached into their bag of tricks, turning a fake punt into a 38-yard touchdown pass from punter Pat O'Donnell to Benny Cunningham. On fourth-and-six, O'Donnell tossed a short pass over the middle to Cunningham, who eluded one tackler and spun away from another to draw the Bears to within 10-9 with 5:23 left in the third quarter.
"Great throw," Cunningham said. "He was patient. Throughout the week we talked, missed it a couple times, did some extra reps, just telling him don't think about it, just let it go. Make it as simple as possible. Then whatever happens, happens. Just trusted him to make the right throw."
The Vikings answered less than two minutes later, however, widening the margin to 17-9 on Jerick McKinnon's 58-yard touchdown run against a depleted Bears defense that had lost yet another inside linebacker on the previous possession when John Timu exited with a knee injury.
That set the stage for Trubisky, who rolled to his right and threw into the end zone to Miller, who caught the ball for a touchdown after it had deflected off the hands of safety Andrew Sendejo.
On the two-point conversion, Trubisky handed off to Howard, who gave the ball to Miller, who pitched it to Trubisky, who ran it into the end zone. It was a trick play the Bears first showed during training camp in Bourbonnais.