Bears offensive coordinator Mike Tice isn't the type of coach who sugarcoats anything or beats around the bush, and that direct approach is just fine with veteran center Roberto Garza.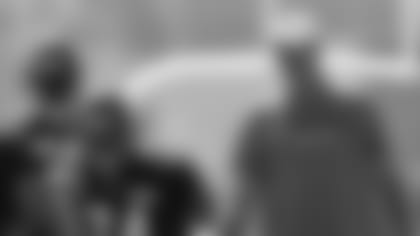 Offensive coordinator Mike Tice watches Chris Williams participate in a camp drill.
"He's an intense coach," Garza said. "You know where you stand with him and it's going to be good for everybody. He's going to hold everyone accountable and I think that's what we need. Everybody needs to know what their role is and go there and execute."

After spending two years as Bears offensive line coach, Tice was promoted to offensive coordinator in January. Last season when he coached the line, the Bears rushed for more than 2,000 yards for just the second time since 1990, despite losing two starting linemen to season-ending injuries.

"He's got a great style," Garza said. "He knows how to handle players, and that's the most important thing. He goes out there and gets the most out of guys and that's what he's been able to do with us, and we're looking forward to continuing to grow as a group."

Tice no doubt relates so well to players because he played 14 NFL seasons as a tight end with the Seahawks, Redskins and Vikings. He has also coached in the league since 1996. As offensive line coach with the Vikings, Tice helped five players earn 10 Pro Bowl nominations.

During Tice's tenure as head coach, the Vikings established an NFL record for most consecutive games with over 300 yards of offense with 36 from 2002-04.

Minnesota led the NFL in rushing for the first time in franchise history in 2002 and topped the league in total offense for the first time in 2003. In 2004, the Vikings set club records with 6,339 total yards and 4,754 passing yards and scored 50 touchdowns.

"He's always very detailed oriented," Garza said. "By the way we get to the game, I'm sure he's going to have every scenario broken down and know exactly what to do, so he's going to put us in the right situation at all times and give us a chance to be explosive."

Proving ground: The Bears concluded Sunday's practice by giving their unproven young players a chance to participate in a scrimmage with live tackling.

"When you get to training camp, there's a lot of different positions you're trying to get a look at and for us we have an idea about what the top part of our roster will look like," said coach Lovie Smith.

"But you want to be able to see some of the down-the-line guys, a lot of times you have to wait until an actual preseason game. So we were able to get a little bit of live work with some of the younger players to get an opportunity to prove what they can do."

Clearing a hurdle: Right tackle Gabe Carimi practiced in pads Saturday night for the first time since he suffered a season-ending knee injury last September in a Week 2 loss in New Orleans.

"I was a little rusty, but there was some good stuff though," Carimi said. "The great part to take away from it is it didn't hurt while I was in there and I didn't really think about it when I was out there. So there were a lot of positives for not putting the pads on for 10 months and finally going back out after almost a whole year of not playing. But there's still work to be done."

Carimi said that he took the field with complete confidence in his knee.

"That would have been suicidal to have doubt," Carimi said. "I knew there was going to be some rust though. I knew that it wasn't going to be exactly where I left off at. But I think there were some good positive notes and I don't think I'm that far off the mark where it will be pretty easy to get back."

Day of rest: After an off day Monday, the Bears will practice at 2:30 p.m. Tuesday. They will work out at 2:30 p.m. Wednesday and 2 p.m. Thursday before conducting a Family Fest practice at 7 p.m. Friday at Soldier Field.