Bears center Roberto Garza has practiced without limitations this week for the first time since injuring his ankle in the season opener and hopes to play Sunday against the Atlanta Falcons.
"I'll let the people who make the decisions make that decision," Garza said. "Obviously I want to get back on the field as soon as possible. I've been able to practice and that's the first step."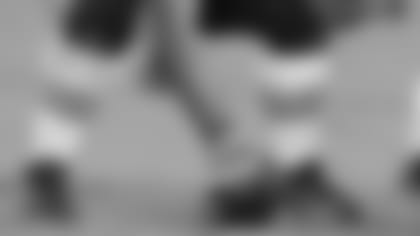 Roberto Garza could return to the starting lineup Sunday against the Falcons.
The longest tenured member of the Bears offense, Garza had missed only two games in nine seasons with the team from 2005-13 before sitting out three contests this year.
"It's been tough," Garza said. "Even when I was in a walking boot I thought I was ready to go. Having to go through the rehab process and let it take its time and let it heal, I've been trying anything and everything trying to get back on the field and let it heal as fast as possible, so we'll see."
With veteran Brian de la Puente filling in for Garza, the Bears offensive line has not skipped a beat. De la Puente was the New Orleans Saints' starting center the past three seasons.
"Roberto's been the starter here and has had a strong presence in the offensive line room and with the offense in general," said offensive coordinator Aaron Kromer. "He's a good leader, so it's good to have him back, although Brian de la Puente did an outstanding job of filling in. We didn't have a drop-off at the center position, so we feel good about having both those guys in an active role."
Next man up: With Shea McClellin (hand) and Jonathan Bostic (back) both missing a second straight day of practice Thursday, rookie Christian Jones could start Sunday at strongside linebacker.  
The undrafted free agent from Florida State played 23 snaps on defense in last Sunday's loss to the Carolina Panthers, registering four tackles.
"We see a lot in him," said coach Marc Trestman. "We like having him around. He just needs the reps to continue to work and get to know the position and get the opportunity and he got a little bit of an opportunity last week. He's getting a lot of work in practice and he's taking advantage of it. We really are excited about having him with us."
Defensive coordinator Mel Tucker was impressed with how Jones performed against the Panthers and is eager to see the 6-3, 240-pounder continue to develop.
"Just keep getting better; that's all we're asking him to do," Tucker said. "Go out there and play hard and be physical and be ready to go. I think what we saw from him in the game is that he is a violent blitzer. He does play fast when he's out there, and the game was not too big for him. He stepped in and did what we asked him to do."
Ball security: To quarterback Jay Cutler, it's easy to explain why the Bears have been outscored 34-3 in the second half of back-to-back losses to the Packers and Panthers.
"It's hard to look past the turnovers," Cutler said. "We have to concentrate on that. If we clean that up, we think that's going to solve a majority of our problems."
The Bears led the Packers 21-17 and the Panthers 21-14 late in the first half before committing two turnovers in the second half versus Green Bay and three against Carolina.
"I'm not sure we've produced like we feel like we should, and that's something that we put an emphasis on: finishing games and finishing drives," Kromer said.
Third-down Thursday: The Bears work on third-down plays in practice on Thursdays and this week was no exception as they prepare to face the Falcons Sunday in the Georgia Dome.
"Third downs are going to be huge this week," Trestman said. "We want to stay on the field offensively. That keeps Matt Ryan and his group off the field and we want to try to get off the field and continue to ascend on third down [defensively]."
On third downs, the Bears rank 11th offensively (45.0 percent) and 16th defensively (43.3).
"We have to get better," Trestman said. "It's been a priority for us. That'll help us flipping the field and the continuity of it will help us with our kicking game as well to neutralize Devin [Hester] along the way because we'll have to do that."