Roberto Garza will return to the Bears in 2015 after signing a one-year contract extension Friday. The veteran center has played 14 NFL seasons, including the last 10 with the Bears.
"Extremely happy for Roberto, his family and the Chicago Bears that Roberto will remain with the team," general manager Phil Emery said in a statement. "He has been a consistently good positive producer and key contributor to our offensive line for an extended time period along with being a leader and role model to everyone on our team and in the greater Chicago community."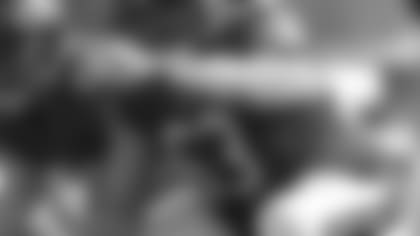 Center Roberto Garza will return for an 11th season with the Bears in 2015.
The longest tenured member of the Bears offense, Garza had missed only two games in nine seasons from 2005-13 before sitting out four contests this year with an ankle injury. It was during that time that he realized he wanted to continue his career at least through 2015.
"Those four weeks, watching the team practice, it was tough to sit on the sidelines and right there I knew I wanted to keep going," Garza said. "When I don't enjoy doing this week-in and week-out then it's going to be time to retire. Being a part of that offensive line group that we have here … is a big part of the reason I want to keep playing. I love playing with those guys."
Garza, who turned 35 in March, is stronger than he's ever been thanks in part to the training he's done with Donnie Thompson, a renowned power-lifter who once set a record by squatting 1,235 pounds, benching 910 pounds and deadlifting 760 pounds. During the offseason, Garza went to South Carolina with former Bears teammate Olin Kreutz to work out with Thompson.
"Some of the things that he does for big guys as far as flexibility and the ability to continue to lift weights and the way he lifts weights has really helped get my strength up and stay healthy," Garza said. "There are a lot of things that he does to help 300-pound men play football."
After not signing a one-year contract for the 2014 season until last Feb. 27, Garza was relieved to get his deal done for 2015 the day after Christmas.
"It's tough to wait," he said. "Last year at the end of the season, I didn't know if I was going to be able to come back and play for the Chicago Bears again or not. Fortunately for me, now I know that. I know I can come back for my 15th year and continue to do the things that I love to do; go out there and play football and especially be a part of this organization and this team."
While the 2014 season has been the most disappointing in recent memory for the Bears, it hasn't diminished Garza's love for the game.
"You love to go out there and try to battle," he said. "Obviously you want to win football games; that's what we're paid to do, that's what we want to do. But when you line up and put a helmet on and get a chance to play a football game in front of thousands of fans and do something I've been doing since I was 13 years old, at the end of the day playing football is what we love to do.
"We have to try to win more football games so we can go to the playoffs and do the things that we all want to do. We all want to be champions, and this year's been tough. But when you step on the football field it's about going out there and battling."