Roberto Garza has seen roster turnover before, but never a complete overhaul of an offensive line like the one that general manager Phil Emery orchestrated over the past year.
The veteran center is the only lineman on the Bears who remains from last year's opening day roster. New this year are Jermon Bushrod, Matt Slauson, Kyle Long, Jordan Mills, Taylor Boggs and Eben Britton. James Brown returns after being elevated to the 53-man roster last November.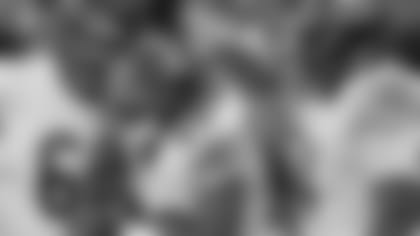 Matt Slauson (left) and Jermon Bushrod celebrate with Matt Forte after his 32-yard touchdown catch Aug. 23 in a preseason win over the Raiders.
They have replaced Gabe Carimi, Lance Louis, Chilo Rachal, Chris Spencer, J'Marcus Webb, Chris Williams and Edwin Williams.

"I've never been around when it's been a complete change like that before," Garza said. "But fortunately for us, we have a lot of great guys that came in—Slauson, Bushrod, the young guys (Long and Mills), Eben. A lot of guys came in that are offensive line guys that work and that fit in well. We're fortunate that we have a lot of good guys that know how to work and know how to prepare for a game, so it makes it an easy transition."

The starting line in Sunday's season opener against the Bengals is expected to consist of Bushrod at left tackle, Slauson at left guard, Garza at center, Long at right guard and Mills at right tackle.

Garza knows that the line will have to make adjustments on the fly and isn't worried that having two rookies on the field in Long and Mills will prevent that from happening.

"Communication is always key no matter if they're rookies or not," Garza said. "Being on the same page and doing the plays exactly as they are called and doing our techniques that we work on day-in and day-out is key for all of us. It doesn't matter if you're a rookie or a longtime veteran. Doing your job exactly how it's supposed to be done is the key to being successful."

Buddy system: Bonding at the NFL Scouting Combine in February and becoming good friends with the Bears has helped both Long and Mills on and off the field.

"Had we not been close we probably wouldn't be playing next to each other right now," Long said. "I feel like our relationship is so strong. It's a symbiotic relationship where two people work together to make a better something or a better environment for everybody, and that's kind of what we're trying to emulate, a symbiotic relationship."

"Just having another rookie to go through it with you is priceless," said Mills, a fifth-round pick from Louisiana Tech. "He's going through the same rookie struggles as you are, so it's good to have somebody there with you who knows what you're going through."

All business: After 17 years as an NFL assistant and five seasons as head coach of the CFL's Montreal Alouettes, Marc Trestman will make his NFL head-coaching debut Sunday.

"I would think it's going to be all business," Trestman said. "I just can't see it any bigger than that. [I'll be] focused on the football team and my job during the course of the game.

"I've said this before-I'm certainly very appreciative of going out there and being the head coach of the Chicago Bears on Sunday, there's no doubt about that. But my focus is to get the team prepared this week and go out and do my job on Sunday."

Trestman is hoping to join Hall of Famer George Halas (1920), Neill Armstrong (1978) and Dick Jauron (1999) as the only coaches in Bears history to win their debut contests.

Star in the making: Pro Bowl cornerback Tim Jennings has been impressed with how second-year receiver Alshon Jeffery has performed this summer.

"He looks great," Jennings said. "He looks slimmer to me. He lost some weight and he's moving well. He's in and out of his breaks well. He's running full speed. He's stronger. He comes out here and works every day. I think losing that weight got him feeling a whole lot better."

The Bears traded up five spots in the second round of last year's draft to land Jeffery, who showed flashes as a rookie while battling injuries, catching 24 passes for 367 yards and three touchdowns in 10 games.

"I see him definitely being an X-factor," Jennings said. "If you're going to try to take Brandon Marshall out of the game, you've got Alshon Jeffery to worry about, and he's a big guy that has great hands. He's a big body, and he's faster than what a lot of guys think."