Roberto Garza would rather be playing in the Super Bowl. But the Bears center is still excited about being part of a historic broadcast at Sunday's title game between the Broncos and Seahawks.
Garza will serve as a sideline reporter at Met Life Stadium for Fox Deportes on the first-ever Spanish language telecast of the Super Bowl in the United States.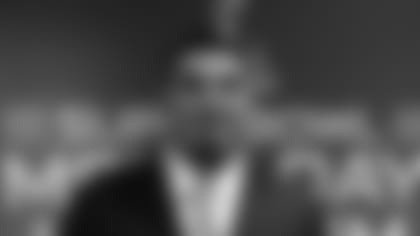 Roberto Garza
"It's a great opportunity for me to cover the game for Fox Deportes," said Garza, a 13-year NFL veteran who has spent his last nine seasons with the Bears.
"It's my first time doing it, so there will be some bumps and bruises. But I'm looking forward to talking about what's going on on the field and in the trenches and some of the things that I do [in games]. I think it will be fun. I'm looking forward to a great game."
Garza will be joined on the air by play-by-play announcer John Laguna and color analyst Brady Poppinga, a former NFL linebacker with the Packers, Rams and Cowboys. This season Fox Deportes televised preseason, Thanksgiving Day and playoff games.
Garza, whose parents emigrated from Mexico to Texas shortly before he was born, is a popular player in the Hispanic community. He was featured on the Spanish version of the Madden NFL video game in 2009 and annually participates in the NFL's Hispanic Heritage month festivities.
Slated to become an unrestricted free agent in March, Garza hopes to return to the Bears. But when his playing career is over he would love to become a Spanish-language broadcaster.
"There are not a lot of ex-NFL players who speak Spanish and able to talk about the game, so I'm looking forward to that opportunity," Garza said.
Two weeks ago at the NFC Championship Game, Seahawks cornerback Richard Sherman spoke to Fox Deportes sideline reporter Troy Santiago seconds before Sherman's now-infamous interview with Erin Andrews.
Asked what he will do if he finds himself in the same situation with Sherman as Andrews after the Super Bowl, Garza joked: "I'll let him go off and keep firing him up."