After being waived by the Bears as part of final cuts Sept. 2, rookie receiver Tanner Gentry spent the next 24 hours in limbo, not knowing whether he'd be claimed by another NFL team.
"It's tough," Gentry said. "Nobody obviously wants to get released. But I had my mom out here and my fiancée and my little sister, so it was all good. I just kind of waited around and I was very fortunate and thankful to be able to come back here."
After not being claimed by another club, Gentry returned to Halas Hall as a member of the Bears practice squad. But his stint there only lasted nine days. The Wyoming product was promoted to the 53-man roster Tuesday in place of receiver Kevin White, who was put on injured reserve after fracturing his scapula in last Sunday's season opener.
With both of the Bears' starting receivers now on IR—Cameron Meredith tore his ACL Aug. 27 in a preseason game—Gentry could be called upon in Sunday's game against the Buccaneers.
It's a great opportunity," Gentry said. "It really sucks to see two great players like that go down and so early in the season as well. I'm just going to prepare and just work hard in practice and continue to better my game and listen to the coaches and do what I'm told."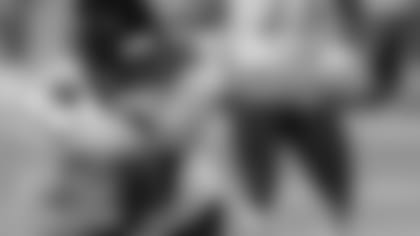 The Bears have called up WR Tanner Gentry from the practice squad.


Gentry earned the promotion due in part to how well he performed throughout training camp and the preseason. He consistently excelled in practice, especially catching deep passes, and had four receptions for 77 yards including a 45-yard touchdown in preseason action.
"One of the reasons that we brought him up and didn't go outside the building was his familiarity with the offense as well as special teams," said coach John Fox. "He does have that value that way. We like to reward our own. In this case, I think he earned it. We're excited to see him and how he develops."
Though it's not clear what type of role if any Gentry will fill Sunday in Tampa, he's certainly a promising prospect with intriguing potential.
"We've just got to kind of figure out how the numbers are going to be this week and who's up, who's down," said offensive coordinator Dowell Loggains. "We are excited about what Tanner brings and hopefully we can create a role for him if he's active and playing this week.
"He has the ability to track the ball in the air. Obviously we all saw that. He's fast. He plays really hard. He's just one of those guys. Sometimes there are guys that have a knack for the football. We kind of feel like Tanner could be that kind of guy."
At Wyoming, Gentry compiled 180 receptions for 2,815 yards and 20 touchdowns in 42 games over four seasons. After catching 39, 32 and 37 passes his first three years, he had a breakout senior year with 72 receptions for 1,326 yards and 14 TDs.
Despite those numbers, Gentry went undrafted, adding to the chip that has resided on his shoulder even before he arrived at Wyoming.
"I've had that since I came out of high school with not a lot of interest from colleges," Gentry said. "I'll continue to play with that and always have something to prove out there on the field."