No undrafted rookie on the Bears roster has had a more impressive training camp than Tanner Gentry, a receiver from Wyoming who has consistently made big plays down the field.
After catching a 46-yard pass from Mark Sanchez deep down the right sideline in Monday's practice, Gentry had three touchdown receptions in Tuesday's workout on a one-handed catch and a sliding grab from Sanchez and a long pass from fellow rookie Mitch Trubisky.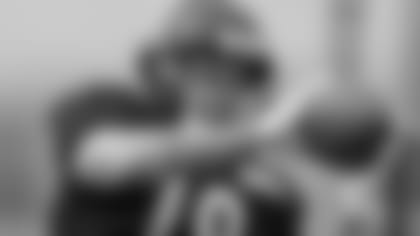 Bears receiver Tanner Gentry caught 14 touchdown passes last year at Wyoming.


"He just goes up and gets it," Trubisky said. "He does his job and he's been beating his man on the outside. The opportunities he's been given, he's taken advantage of them."
The next challenge that Gentry will face is carrying his success in practice into Thursday night's preseason opener against the Denver Broncos at Soldier Field.
"Every day we're being evaluated, so it's kind of a consistency thing being able to do it day-in and day-out," Gentry said, "and I'm excited for Thursday to be able to do it in a game situation."
Gentry had 180 receptions for 2,815 yards and 20 touchdowns in 42 games over four seasons at Wyoming. After catching 39, 32 and 37 passes his first three years, he had a breakout senior year with 72 receptions for 1,326 yards and 14 TDs.
Those stats included catches of 54, 48, 46 and 46 yards.
"I think I just do a good job of tracking the ball in the air and making a play on it," he said. "I did it a lot in college. We threw a lot of deep balls, so I gained a lot of good experience there."
In the NFL, Gentry knows he'll have to master a wide variety of pass routes.
"I'm learning from the veteran receivers just how detailed they are in their routes and how they create separation," he said. "In this offense everything has got to be on point and you've got to be at your right spot at the right time.
"For example, if we've got a route at 'X' amount of yards, you've got to be there. And that's something I've got to continue to improve on, being super detailed in that aspect because in this league it's all about timing and quarterbacks expect you to be in those spots."
Although Gentry went undrafted, he has never doubted that he could play in the NFL.
"I've always been pretty confident in myself and I've always known that I can play at this level," Gentry said. "I've been excited to show everybody what I can do."
Gentry has developed a rapport with all three Bears quarterbacks, especially Trubisky.
"We came in at the same time with all the rookies and we spent a lot of extra time when the vets were off at Halas Hall just getting our chemistry and learning the offense together," Gentry said.
Gentry's quarterback at Wyoming, Josh Allen, is being projected as the possible No. 1 pick in next year's NFL Draft and has drawn comparisons with Trubisky.
"Those guys both have the 'it' factor that you're looking for in a first-round guy," Gentry said. "Josh asks me all the time how he compares to Mitch in certain aspects. They're both great."
As Gentry battles for a roster spot with the Bears, he knows that he must continue excelling at receiver and also contribute on special teams, something he didn't do much of at Wyoming.
"I mostly did returning in college," Gentry said. "Here I'm doing kickoff and punt coverage and front-line kickoff return. It's an adjustment, but I'm trying to learn it and I know I have to make an impact there if I want to make this team."