Bears chairman George H. McCaskey revealed Tuesday that he spoke to Brian Urlacher after the team announced it was unable to reach a contract agreement with the star middle linebacker.
"Yeah, I talked to him," McCaskey said at Maryville Academy in Des Plaines, where the Bears hosted their annual Ed Block Courage Award luncheon. "He was very gracious.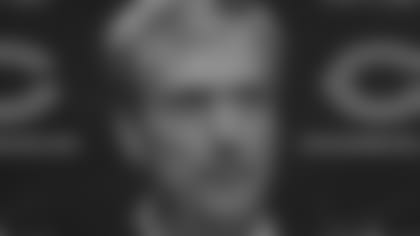 George McCaskey
"I wanted to wait a little bit because I figured there would be a little emotion. But Brian knows how we feel about him. He's one of the all-time great Bears. He's continued the outstanding linebacker legacy of the Bears. He's going to be in the Hall of Fame, and when he is everyone's going to think of him as a Chicago Bear."

Selected by the Bears with the ninth pick in the 2000 NFL Draft, Urlacher was voted to eight Pro Bowls in 13 seasons. He was named NFL Defensive Player of the Year in 2005 and helped the Bears reach the Super Bowl in 2006 for the first time in 21 years.

But Urlacher got off to a slow start in 2012 after sitting out the entire offseason program and preseason with a knee injury. He improved throughout the season and led the Bears in tackles before suffering a hamstring injury Dec. 2 in a loss to the Seahawks that sidelined him for the final four games.

Urlacher started 180 of 182 games played with the Bears, recording a franchise-record 1,779 tackles, 41.5 sacks, 22 interceptions, 16 fumble recoveries and 11 forced fumbles. He was selected NFL Rookie of the Year in 2000, was a four-time All-Pro and won two Brian Piccolo Awards.

A few days before the Bears announced March 20 that the two sides were parting ways, McCaskey had said at the NFL owners meetings in Arizona that he hoped Urlacher would return to the team.

"I said going into the process that I'd be heartbroken if he didn't come back, and I am," McCaskey said Tuesday. "Our whole family is. Brian's just been the face of the franchise, an outstanding Bear on and off the field. But we knew it was a possibility going into it; that it might be this result and that's the way it turned out."

McCaskey didn't entirely close the door on Urlacher still re-signing with the Bears, but stressed that the decision belongs to general manager Phil Emery with input from head coach Marc Trestman.

"That's up to the market and Phil and Marc," McCaskey said. "Phil said it's a process and we just go through it and see what happens. That's not up to me. Bears fans should be assured that I don't involve myself in personnel decisions."