Bears players have selected five co-captains for the 2017 season: quarterback Mike Glennon and guard Josh Sitton on offense, linebacker Jerrell Freeman and safety Quintin Demps on defense, and Sherrick McManis on special teams.
Glennon has been displaying leadership skills since the day he signed with the Bears in March.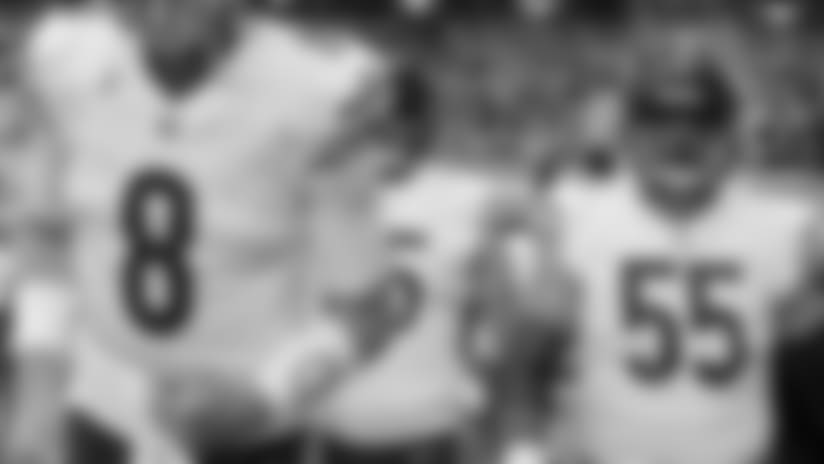 Bears quarterback Mike Glennon leads his teammates onto the field for a preseason game Aug. 19 against the Cardinals.


"I feel like he's a great leader," said receiver Kevin White. "He takes control of the huddle. On and off the field, he's a great guy. Got to have a guy like that leading us."
Coach John Fox felt that Glennon deserved to be voted a captain.
"He's a pro," Fox said. "He works at it. He's in here very early. He's in here very late. I think his teammates see that. I think they responded to that. Asking them is probably a better indicator. But obviously he's done a good job of that with winning the respect of his teammates."
"It just speaks volumes of what he means to our football team and his leadership role now for not only our offense but for our team," added tight end Zach Miller. "He's done a great job since he's been here. Grasps the offense. Takes hold of what we're doing here. With that position, I think comes natural leadership and he's done a great job with that as well."
To no one's surprise, Fox confirmed Monday that Glennon will start Sunday's season opener against the Falcons at Soldier Field. After struggling in the preseason opener, Glennon posted quarterback ratings of 78.2 and 102.5 in the second and third exhibition games.
"I've got all the confidence in the world in him," White said. "We go as Mike goes. Mike's a hard worker and he knows this offense in and out. And I feel like we'll be ready to go. He's confident out there. Making the right reads. Talking a little more. Having a little more swagger about him."
"I like his progress," Fox added. "I like how he's adapted. He's a smart guy. He works hard at it. He's very tireless. I like that about all three of our quarterbacks."
Freeman was voted a co-captain on defense after leading the Bears last season with 127 tackles and seven tackles-for-loss in his first year with the team.
"Discipline, leadership—all the things that you put behind that tag of captain on your team, [Freeman] upholds those every day," Hicks said. "Just through the locker room, you can constantly see him working on things even when nothing has been called for or asked of. You put a guy in that position because he represents everything that your team is supposed to believe in."
Demps was honored to be voted a co-captain, especially given the adversity he overcome early in his career when he was cut by the Eagles and Texans in back-to-back seasons and found himself playing for the Hartford Colonials in the United Football League.
"It means a lot," Demps said. "I'm very, very grateful. My journey in the league hasn't been easy. So just to be captain now means a lot. It's something I don't take lightly. It's a privilege and an honor."
Demps intended to continue to show leadership even if he wasn't voted a co-captain.
"That's just who I am as an individual," he said. "This is Year 10 and I want to win ballgames. I'm passionate about winning. This is what you're going to get from me each and every day."
The Bears will select a sixth co-captain each week based on performance.