Mike Glennon's trip to Bourbonnais Wednesday was a special one because it marked the first time in his five-year NFL career that he arrived at training camp as a starting quarterback.
"It's just what I've dreamed of my whole life, to be a starting quarterback in the NFL, to enter the season as that guy," Glennon said. "It's what I've worked for; I've prepared for it ever since I was a kid and all the way through college and into the pros, to get to this moment. So it's going to be a great opportunity."
The Bears anointed Glennon as their No. 1 quarterback after signing him to a lucrative free-agent contract in March. He arrives after opening the last four seasons as a backup with the Buccaneers behind Josh Freeman (2013), Josh McCown (2014) and Jameis Winston (2015-16).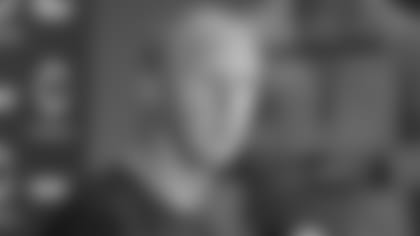 Bears quarterback Mike Glennon addresses the media Wednesday in Bourbonnais.


"It's a different approach when you go into the season as the starter than the backup," Glennon said. "When you're the backup, you want to prepare like you're the starter. [But] it's just not the same. You can try to trick your mind into that as much as you want, but when you are the starter, it's different. I don't know that I've prepared that much differently. I just think it's a different mental approach to know what's coming."
Glennon's grasp on the starting job appeared precarious when the Bears traded up one spot to select North Carolina quarterback Mitch Trubisky with the second pick in the draft. But general manager Ryan Pace has stressed repeatedly that the Bears plan to start Glennon this season and groom Trubisky as their quarterback of the future.
Pace reiterated that stance again Wednesday when asked by a reporter what would happen if Trubisky outperforms Glennon in training camp and the preseason.
"Glennon's here for a reason," Pace said. "We evaluated him over the years. We're very confident in him. Glennon's our starter and we're confident with that. This thing is going to have to play out. But Mike Glennon is our starting quarterback and I don't think now is the time to deal in hypotheticals."
While Trubisky possesses intriguing potential, Glennon has appeared in 21 NFL games with 18 starts, passing for 4,100 yards with 30 touchdowns, 15 interceptions and an 84.6 passer rating.
"Between those two, you lean on Mike's experience a lot and you can tell he's been in the league for four years with different coordinators and you know you can feel that," Pace said. "They both have their strengths and weaknesses, but right now you really lean on Mike's experience and some of the things he's been through, and that's the reason why he's here and that's why he's our starting quarterback."
Asked how Glennon's experience manifests itself, Pace said: "You can feel it in the huddle and in the meeting rooms and on the field and that's natural in what you'd expect from a veteran quarterback compared to a rookie quarterback."
Pace has been a Glennon fan since he replaced Russell Wilson at North Carolina State. Working in the Saints personnel department at the time, Pace continued to monitor Glennon after the quarterback was selected by the Buccaneers in the third round of the 2013 draft.
Glennon started the final 13 games of his rookie season—supplanting Freeman after Tampa Bay opened 0-3—and threw for 2,608 yards with 19 TDs, nine interceptions and an 83.9 rating. Glennon then played in six games with five starts in place of an injured McCown in 2014 and passed for 1,417 yards with 10 touchdowns, six interceptions and an 83.3 rating.
Since signing Glennon, Pace has been impressed with how the quarterback has taken a leadership role with his new teammates in organizing workouts and social outings and is excited about watching him lead the Bears offense.
"With Mike, it's really just our confidence in him as a player," Pace said. "We value him as a player. There's a reason we went out and signed him. There's a reason we gave him that contract. We're very confident in Mike Glennon."