Mike Glennon didn't expect the Bears to select a quarterback high in the draft.
But not long after they traded up one spot to choose North Carolina's Mitch Trubisky with the No. 2 overall pick, Glennon received an assurance via a phone call from general manager Ryan Pace that he remained the team's quarterback of the present.
"I think just like everyone here, I was surprised," Glennon told reporters Tuesday in his first media session since the draft. "That's the bottom line. But it was made clear to me about 10 minutes after from a call from Ryan and the next morning again the 2017 season is my year.
"That's all I can worry about. I'm not worried about the future. I'm not worried about the past. I'm worried about the present and right now this is my team and that's where my focus is."
Glennon practiced alongside Trubisky Tuesday—as well as fellow quarterbacks Mark Sanchez and Connor Shaw—as the Bears conducted their second of 10 OTA workouts.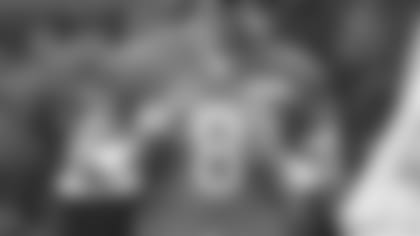 Mike Glennon participates in a drill during an OTA practice Tuesday at Halas Hall.


Glennon, who signed with the Bears March 10 after spending his first four NFL seasons with the Buccaneers, denied that he's had any issues dealing with Trubisky's arrival.
"Honestly it hasn't been hard at all," Glennon said. "I've been out here competing with my new teammates. My focus is on right now getting better every day to get ready for the start of the season because this year is my year and I'm not going to worry about the future."
Glennon insisted that he still would have signed with the Bears had he known the team was going to pick a quarterback high in the draft.
"There's absolutely no reason to go hindsight," Glennon said. "But even if I were to I would still have [come] here. Like I said, this is my year. There are no guarantees in the NFL. The majority of guys in the NFL are playing year-to-year. I'm here to prove myself that I can be the quarterback this year and going forward. But right now my focus is on winning games this year."
Asked whether he received any assurances during the free-agent process that the Bears would not draft a quarterback high, Glennon said: "It was never discussed. The GM and the scouting department make those decisions. I never brought it up. They never brought it up."
Pace has been impressed with Glennon since the quarterback replaced current Seahawks star Russell Wilson at North Carolina State. Selected by the Buccaneers in the third round of the 2013 draft, Glennon started the final 13 games of his rookie season, throwing for 2,608 yards with 19 touchdowns, nine interceptions and an 83.9 passer rating.
The 6-7, 225-pounder played in six games with five starts in 2014, passing for 1,417 yards with 10 TDs, six interceptions and an 83.3 rating. As Jameis Winston's backup the past two seasons, Glennon did not play in 2015 and threw just 11 passes last year—all in the same game.
Now the Bears starter, Glennon has been working with coordinator Dowell Loggains to digest the offense since the offseason program began April 18.
"Obviously the more time I spend in it the more comfortable I'll be," Glennon said. "I had three different offenses in four years in Tampa, so I'm used to learning a new offense. It hasn't been a real big issue for me."
Asked for his impressions of the scheme, Glennon said: "I think we do a good job in a lot of different ways. Our run game's great. The way we build off of our run game and our drop-back game, everything kind of ties together. We'll install more as OTAs go on. But so far I've really liked the scheme and the offensive coaches."
The Bears took to the practice field for day one of Organized Team Activities at Halas Hall on Tuesday.