General manager Phil Emery said Thursday that he's comfortable with veteran Jordan Palmer as the Bears' second-string quarterback behind starter Jay Cutler.
Josh McCown excelled in that role last season, ultimately earning a lucrative free-agent contract and opportunity to start with the Buccaneers.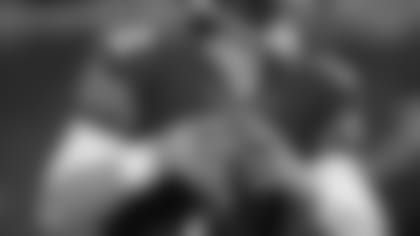 Jordan Palmer spent the final nine weeks of the 2013 season on the Bears roster.
Asked if he's comfortable with Palmer as Cutler's backup, Emery said: "Absolutely, and I told him that the other day-the same thing I told Josh: 'Glad you're here, looking forward to your contributions and we're counting on you.'"
Palmer, who will turn 30 at the end of this month, originally signed with the Bears last Aug. 16 after third-string quarterback Matt Blanchard broke his hand. Palmer played the first half of the preseason finale against the Browns, completing 11 of 17 passes for 111 yards with one touchdown and a 102.8 rating.
Palmer was cut before the start of the regular season, but he was re-signed Oct. 28 after Cutler suffered a groin injury in a Week 7 loss to the Redskins. Palmer spent the final nine weeks of the season on the Bears' 53-man roster, but he did not appear in a game.
"Jordan, since the time that he came last year, has been nothing but a positive," Emery said. "He performed well in a preseason game, and I understand that's the fourth preseason game, normally that's the second and thirds and the back end of the roster.
"But you still want people to show that they have upside and perform well. There are people that make squads in that game, so that game is important, and he did well."
Palmer has appeared in four NFL games-all during three seasons with the Bengals from 2008-10, completing 10 of 15 passes for 49 yards and two interceptions.
"He has been a backup in the league, obviously in Cincinnati," Emery said, "so he knows what the weight of that position is and how to carry himself and how to contribute positively to the team in that role and to get himself ready to go every week in case there was an injury."
Emery is also eager to monitor the development of the third quarterback on the Bears roster, Jerrod Johnson, who spent a few weeks on the team's practice squad last September.
The 6-5, 251-pounder also has had stints with the Eagles, Steelers and Seahawks since entering the NFL as an undrafted free agent in 2011 out of Texas A&M, but has yet to appear in a regular-season game.
"I'm excited to see Jerrod on the field for longer than a week or two," Emery said. "We brought him in to take a look at him, but we had to release him because we had other needs on our practice squad at the time depending on what had happened with our 53-man roster. I told him when we released him we would like to bring him back and we did."
Emery has said in the past that philosophically he would like to select a quarterback at some point in the draft every year. But when asked whether he was intrigued with the idea of coach Marc Trestman working with a late-round quarterback, he said: "I'm more intrigued with how Marc matches up with Jay and Jordan and Jerrod.
"I think we've got three guys that all have traits that can continue to be developed. You look at Jordan and Jerrod, they're both 6-5. They both have good arm strength. They're both intelligent. They both work extremely hard at being a very positive part of the team.
"So to me, both of those guys have developmental upside and Jay is working his tail off to get better at everything he does. So that's what I'm most interested in-pairing Marc with the players that we have."