General manager Phil Emery discussed Jay Cutler's contract situation and other key issues during an exclusive 90-minute Q-and-A with fans Tuesday on ChicagoBears.com.
Asked about the Bears retaining Cutler after his contract expires at the end of this season, Emery said: "As we have mentioned previously, all contract issues will be worked on post-season. That includes Jay and a number of other Bears players. Before Jay's injury, he was playing at a high level and we were very pleased with his progress."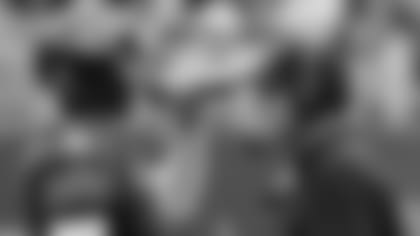 Bears quarterback Jay Cutler chats with coach Marc Trestman during a timeout earlier this season.
In eight starts this season, Cutler has completed 63.0 percent of his passes for 1,908 yards with 13 touchdowns, eight interceptions and an 88.4 passer rating. He sustained a torn groin muscle Oct. 20 in a loss to the Redskins that forced him to sit out one game. Cutler then suffered a high ankle sprain Nov. 10 in a loss to the Lions and has missed the last three contests.

Asked about the possibility of the Bears using a franchise tag on Cutler in 2014, Emery said: "The franchise tag for the quarterback position has unique challenges because the average comes out to be such a big portion of your cap and your total money available to spend on other players to acquire to help your team.

"With the franchise tag being so high for the quarterback position, to use it and not sign the individual to a long-term deal hurts the team because you lose the ability to prorate the amount of guaranteed salary over the length of the contract. Proration lowers the salary cap number in relation to that player's contract. Obviously the lower the number in relation to the salary cap, the more players you can sign to help your team reach its goals."

Emery also expressed his support for coach Marc Trestman, saying: "I'm very pleased with Marc. He's put our team in position to win each and every week and he's done that while dealing with numerous adversities in terms of injuries and inserting new players. He's done a great job of pulling the team together, which includes a wide mix of veterans and young players."

Emery was equally positive about defensive coordinator Mel Tucker, saying: "Coach Tucker has dealt with a lot of adversity in terms of having to deal with a lot of different working parts and players on a week-to-week basis. I think he's a very strong communicator and motivator. The unit showed progress this past week. The defense has helped us win every game that we have won. And we are very focused just as coach Tucker is to continue to improve."