Eddie Goldman doesn't have to look in a mirror to remember that he shed 10-15 pounds since last season. The Bears nose tackle notices the difference every day in practice.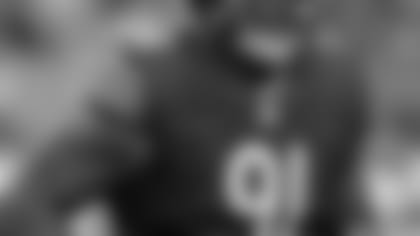 Eddie Goldman recorded 39 tackles and 4.5 sacks in 2015.


"I feel faster because I lost weight," Goldman said Tuesday. "I didn't play a full game yet, so I can't really judge myself. But I can tell you that I feel faster and quicker."
Goldman is eager to see how his almost-svelte 325-pound frame responds Saturday when the Bears host the Chiefs. The third preseason game is typically considered a dress rehearsal for the regular season, with starters playing into the second half.
Asked what he hopes to accomplish in the contest, Goldman said. "Just to see where I am in the third quarter because I doubt I'm going to play in the fourth quarter; to see where I am in the midst of the game, just to see how my body will react."
Goldman was selected by the Bears in the second round of the 2015 draft out of Florida State. He showed promise as a rookie, appearing in 15 games with 12 starts and recording 39 tackles, 4.5 sacks and six tackle-for-loss.
"He grew a lot last year as a rookie and I've seen that same growth so far even in the preseason games, albeit in limited play," said coach John Fox. "He got about 10 plays in the first week and then about 15 last week, so hopefully he'll get a few more plays and kind of get him in full-game condition. But I like his progress."
Buddy system: Goldman has benefitted from playing next to veteran Mitch Unrein.
"He's a smart guy," Goldman said. "It's to the point where he could tell me and Akiem [Hicks] our assignments while we're about to snap the ball. He calls out formations and stuff like that. That's a good thing to have because he's a guy who is always asking questions in the meeting room and always doing the extra stuff to make sure we do what we need to do—not just him but us, too."
Praise for teammate: Goldman has also been impressed with the progress that guard Cody Whitehair, a second-round pick from Kansas State, has made since OTAs.
"He's gotten better along the way," Goldman said. "He's a tough kid. He's probably stronger than me. He has a good grip; when he gets a hold of you he's not going to let you go. He's a good run blocker and pass blocker, too. In the run, he comes off low. In the pass, he has good balance and good feet."
Welcome back: Outside linebacker Leonard Floyd, defensive lineman Cornelius Washington, tight end Ben Braunecker and running back Senorise Perry all returned to practice Tuesday on a limited basis.
Receiver Kieren Duncan and linebacker Jarrett Grace both did not practice because they were sick. Linebacker Lamin Barrow exited the workout with a foot injury. Rookie defensive end Jonathan Bullard was excused for personal reasons for a second straight day, but the third-round pick from Florida is expected to play against the Chiefs.