One highlight of Eddie Goldman's first three months with the Bears has been the opportunity to work alongside a player he's tried to emulate since high school.
The rookie nose tackle is a huge fan of Jeremiah Ratliff, who was voted to four straight Pro Bowls from 2008-11 as a member of the Dallas Cowboys. At Florida State, Goldman even changed his number to 90 in honor of Ratliff.
"It's a great experience," Goldman said of working with Ratliff. "He always comes and gives me pointers. I learn from everybody just by watching. But as far as pointers and stuff like that, Jay Ratliff is helping me.
"We were doing a drill and I didn't do it right. Then he came to me and told me to switch up a few things, and then I did it again and it was perfect. That gave me kind of an idea about how he is and his pointers, how important that is. It was great."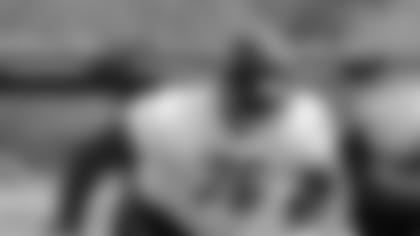 Eddie Goldman during a drill at practice.
The Bears selected Goldman in the second round of this year's draft. The 6-4, 332-pounder was a three-year contributor and two-year starter at Florida State.
Goldman opened all 13 games at defensive end as a sophomore in 2013, helping the Seminoles win the BCS National Championship. He then moved to nose tackle last season and was named first-team All-ACC after recording 35 tackles and four sacks.
After the Bears drafted Goldman, general manager Ryan Pace told reporters that he was impressed with how Goldman produced impact plays when Florida State needed them most.
Last season in a 23-17 overtime win over Clemson, Goldman forced a fumble that the Seminoles recovered with 1:36 left in the fourth quarter of a tie game. In overtime, he recorded a sack and made a key stop on fourth-and-1.
"He made three game-changing plays that really stick in your head," Pace said after the draft.
Watching Ratliff make key plays in clutch situations is one reason Goldman initially became a fan of his Bears teammate.
"He's hard-nosed," Goldman told reporters at the NFL Combine. "I believe one time he was mic'd up in a game and one thing he kept saying is 'they aren't going to win the physical part of the game.' That's a thing I try to pride myself on, is being physical.
"He came up in big moments, too. That's one thing I noticed about him. He'd get sacks in tight fourth-quarter games. That stood out to me."
Ratliff's leadership both on and off the field is what has stood out to Goldman in training camp.
"Jay sets the bar, sets the example and then we just follow," Goldman said. "Off the field, he's a nice family man, a nice dude to talk to. But when he's on the field, it's all work."
Ratliff, meanwhile, has been impressed with what he's seen from his rookie teammate.
"Eddie needs to just keep doing what he's been doing," Ratliff said. "He's been playing hard; great leverage, great hands, strong guy, powerful. He can eat up two and sometimes three blockers. You see how big he is, and he'll be good."