Bears rookie defensive tackle Eddie Goldman impressed coach John Fox both on the field and in the classroom during the team's recently-completed offseason program.
"He's picking up the defense," Fox said. "There are some movement things Ed knows that you have to know. Some of the closed call mechanics are different than these guys experienced in college. I like what I've seen. He's working at it hard and he's a big square body."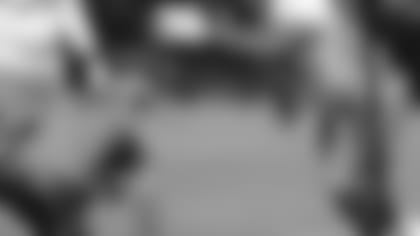 Bears rookie Eddie Goldman works with defensive line coach Jay Rodgers during practice.
The Bears selected Goldman in the second round of this year's draft out of Florida State. The 6-4, 336-pounder was a three-year contributor and two-year starter for the Seminoles.

Goldman opened all 13 games at defensive end as a sophomore in 2013, helping Florida State win the BCS National Championship. He then moved to nose tackle last season and was named first-team All-ACC after recording 35 tackles and four sacks.

After the Bears drafted Goldman, general manager Ryan Pace told reporters that he was impressed with how Goldman produced impact plays when Florida State needed them most.

Last season in a 23-17 overtime win over Clemson, Goldman forced a fumble that the Seminoles recovered with 1:36 left in the fourth quarter of a tie game. In overtime, he recorded a sack and made a key stop on fourth-and-1.

"He made three game-changing plays that really stick in your head," Pace said after the draft.

Goldman's new Bears teammate, veteran defensive end Jarvis Jenkins, is a Clemson alum who also remembers those plays against the Tigers.

"When we played them at Florida State, we were on the 1-yard line going in and he blew the player up and got a forced fumble, and they ended up winning the game," Jenkins said. "Once we drafted him, I remembered that play. I tell him about it every day."

While Goldman performed well during non-contact OTA and minicamp practices the past two months, his strength and power really should be evident when the Bears put on pads in training camp.

Asked what he's looking for from defensive linemen in full-contact drills, Fox said: "Really just strength at the point. Some of the transition from run to pass. How well can a guy convert to a pass rush. How stout they are. Pad level always has a little bit to do with that. So a lot of the things we're teaching here in the underwear, we see if they translate into pads."

While most draft analysts viewed Goldman as more of a run-stuffer than pass rusher, the Bears are confident that their second-round draft pick will contribute in both aspects of the game.

"I know a lot of people say, 'when you say nose tackle, this is just a two-down guy,'" Pace said after the draft. "[But] he can collapse the pocket. He's got a strong power to bull rush. So he can provide that, too. That's going to help out a lot. It helps the outside linebackers when they're coming off the edge if you've got some push in the middle, and he can provide that."