Some NFL players hit a rookie wall about halfway through their first professional seasons. Others, like Bears nose tackle Eddie Goldman, run right through it without slowing down.
The second-round draft pick has continued to raise his level of play in recent weeks, recording 10 tackles, three sacks and three tackles-for-loss in the last three games.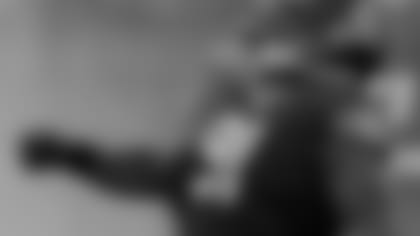 Eddie Goldman ranks second in the NFL among nose tackles with 4.5 sacks.


"He's been getting better," said defensive coordinator Vic Fangio. "That's what impresses me the most is that he's been getting better throughout the season from game-to-game, learning his craft a little bit better. He's been hanging in there, not letting the physical wear and tear of the season get to him. His ability to improve I think is what has impressed me the most."
Goldman ranks second in the NFL among nose tackles with 4.5 sacks and is second on the Bears with six tackles-for-loss. In last Sunday's overtime loss to the 49ers, the Florida State product posted the first two-sack game of his career and also recorded his first blocked extra point attempt.
"This game's about confidence, especially with a young player, first time going at it at this level," said coach John Fox. "He's a guy that's like all players, not been perfect, like all coaches, not been perfect. But you see improvement. He has the ability to continue to grow and get better. I think [last Sunday] was a good example. I thought he had one of his better games."
At Florida State, Goldman started all 13 games at defensive end as a sophomore in 2013, helping the Seminoles win the BCS National Championship. He then moved to nose tackle last season and was named first-team All-ACC.
Known primarily as a run-stuffer in college, the mammoth 6-4, 336-pounder is showing that he can rush the passer as well.
"He's using his hands, getting off better, feet in better positions early in the down," Fangio said. "All of the little things usually help you get better."
Veteran defensive lineman Jarvis Jenkins has noticed a difference in Goldman in practice that has carried over into Sundays.
"I feel like his preparation in practice is just benefiting him in these games," Jenkins said. "Coach has talked about him getting extension, finishing plays. I think at the beginning of the season he could have made those plays but he wasn't finishing.
"I'm watching him in individual drills with coach [Jay] Rodgers and getting into team and he's actually finishing those plays in practice, and it's showing on the field. They always talk about rookie walls and Eddie definitely hasn't hit that."