Robbie Gould is motivated to make sure that his brother Chris—a special teams coaching intern with the Broncos—isn't the only member of the family who wins a Super Bowl.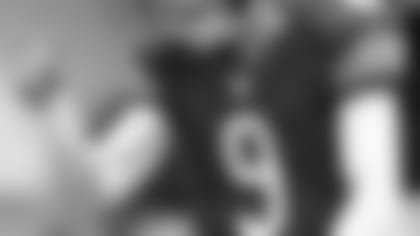 Entering his 12th season, Robbie Gould is the Bears' all-time leading scorer with 1,207 points.
While the Bears don't begin their offseason program until April 18, the veteran kicker has already started preparing for his 12th season with the team.
"I've kicked the earliest I've ever kicked," Gould said. "I've worked harder than I've ever worked out. One is because my brother has a ring before I got a ring. But, two, that's what I'm here to do. I'm here to win. I'm here to play football. I'm here to make kicks and do the things that I know I can do.
"I don't want to be a player that when I leave the organization, whether it's on my own or down the road when contracts expire, that has the regret that I didn't win a Super Bowl as a Chicago Bear."
Gould is the Bears' all-time leading scorer and the ninth most accurate field-goal kicker in NFL history, but he's not resting on those accomplishments. He's been working out six days a week and kicking two or three days a week.
"I'm not the type of guy that's going to sit around and try to stay the same," Gould said. "I'm always trying to be the best. I want to be the best kicker to ever play the game and the only way to do that is through hard work and by dedicating yourself to doing it."
Gould is the only remaining member of the Bears' last Super Bowl team in 2006. And while they've failed to make the playoffs in eight of nine seasons since that point, he's confident the franchise is headed in the right direction behind general manager Ryan Pace and coach John Fox.
"There's a lot to be excited about," Gould said. "First of all, the culture change. You hear a lot of guys talking about that. You hear a lot of guys in their interviews talking about coming here because of your general manager and head coach and the guys in the locker room."
Gould has been impressed with the moves the Bears have made this offseason. They've bolstered their roster by adding free agents Danny Trevathan, Bobby Massie, Jerrell Freeman, Akiem Hicks, Manny Ramirez and Ted Larsen while also re-signing Tracy Porter, Sherrick McManis, Marc Mariani, Zach Miller and Sam Acho.
"They didn't just go out on a spending spree and buy anybody," Gould said. "They were very methodical about the guys they got. The guys that they're bringing in have had a taste of victory, have had a taste of what it means to play in the playoffs and go deep in the playoffs and it's going to be exciting to add them to the locker room.
"I've talked to a couple of them through text messaging just welcoming them to the organization. They're excited to be here. They're excited to play for the Bears, and for me it's going to be exciting to watch them."
With the infusion of talent and nine picks in the April 28-30 NFL Draft, Gould believes that the Bears are primed to rebound from last year's 6-10 record.
"There's a lot of buzz," he said. "Every year we'll continue to grow, we'll continue to get better and I think we'll have a chance to win a Super Bowl here in the near future."