The following is the ninth of nine position reviews of the 2013 season.*
Kicker Robbie Gould had another stellar season in 2013, tying his own Bears record for field-goal accuracy at 89.7 percent. He connected on 26 of 29 attempts just as he did in 2008.
In 2013, Gould kicked the longest field goal in team history, a 58-yarder in the season opener against the Bengals and converted the 11th game-winning kick of his career, a 38-yarder in overtime to beat the Ravens 23-20 on Nov. 17 at Soldier Field.
Gould also became the second player in Bears history to compile 1,000 points, increasing his career total to 1,025, just 91 behind Kevin Butler's all-time franchise record.
Devin Hester also excelled in 2013, leading the NFL in kickoff return yards with 1,442 and ranking fifth with a 27.7-yard average.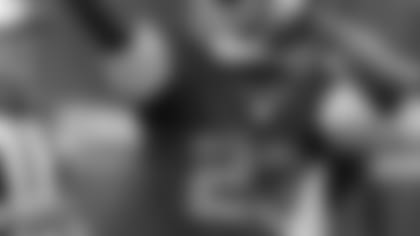 Devin Hester extended two of his NFL records with an 81-yard punt return touchdown in 2013.
With an 81-yard punt return touchdown Oct. 20 against the Redskins, Hester extended his all-time NFL records for punt return TDs to 13 and combined kick return TDs to 18. He also tied Hall of Famer Deion Sanders' NFL mark of 19 return TDs, which includes punts, kickoffs, missed field goals, fumbles and interceptions.
Long-snapper Patrick Mannelly appeared in 14 games, extending his team record to 245 games played. He is the only NFL player selected in the 1998 draft who remains with his original team.
Blake Costanzo led the Bears with 17 special-teams tackles in 2013, followed by Sherrick McManis (15), Craig Steltz (14), Eric Weems (13) and Anthony Walters (10). Punter Adam Podlesh struggled, finishing 33rd in the NFL with a 40.6-yard gross average.
As a unit, the Bears ranked 23rd in the NFL on special teams, based on composite rankings in 22 different statistical categories. They led the league in kickoff coverage, allowing only 18.7 yards per return, but ranked last in gross punting at 40.0 yards.
"We need to be more consistent on special teams," general manager Phil Emery said after the season. "We did improve in the return game, both punt and kick. We fell back on coverage. We did improve in kick coverage in the number of times we pinned our opponent inside-the-20. But there was a fall-off in our penalty discipline."
Coach Marc Trestman agreed that the Bears must reduce the penalties they drew on special teams.
"My biggest concern always as a head football coach is being a disciplined football team," Trestman said. "That is No. 1. Discipline translates connectively to each and every phase of our football. It's about real estate. It's about where the line of scrimmage starts. It's about going downhill on an offensive drive or leaving an offense backed up on a defensive drive. One area which would be a focal point is making sure we don't lose field position in the special teams area.
"Our return teams were better in terms of being the strength of our football team and special teams. We did not cover as well as we want to cover and part of that is when you have younger players who were special teams players move up, we've got to be able to get those guys who replaced them to play better, to cover better."