Bears kicker Robbie Gould was limited in practice Saturday with a quad injury and is questionable for Monday night's game against the Saints, meaning there's a 50 percent chance he'll play.
Coach Marc Trestman said after practice that he planned to talk with Gould and head trainer Chris Hanks and "see where we are and go from there. We still have some time."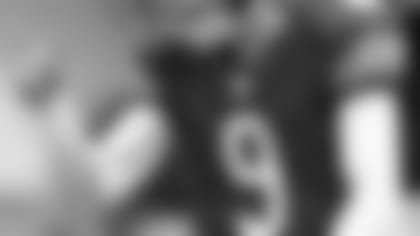 Bears veteran Robbie Gould is the eighth most accurate field-goal kicker in NFL history.
Gould sat out last Thursday night's loss to the Cowboys after getting hurt in practice. He was replaced by veteran Jay Feely, who did not attempt a field goal and had one of three extra point tries blocked, though that was due to a breakdown up front.
Gould is tied with Kevin Butler for the most field goals in Bears history with 243. Gould has converted 9 of 12 attempts this season, including just 1 of 3 over his last six games.
In other injury news, safety Chris Conte (back) did not practice and is doubtful, meaning that rookie fourth-round pick Brock Vereen likely will make his third start of the season.
Defensive tackle Jeremiah Ratliff (knee), defensive end Cornelius Washington (ankle) and offensive lineman Michael Ola (back) are all questionable.
Roster move: The Bears on Saturday put linebacker Darryl Sharpton (hamstring) on injured reserve and elevated quarterback David Fales to the active roster from the practice squad.
Fales was selected by the Bears in the sixth round of this year's draft. The Patriots reportedly were interested in plucking him off Chicago's practice squad, something they can no longer do.
"That's the benefit of getting him up, the fact that they can't take him off the practice squad," Trestman said. "It's in the best interest of the team. He's worked hard."
Incentive plan: The Bears are eliminated from playoff contention, but veteran defensive end Jared Allen won't be lacking motivation Monday night against the Saints.
"I try to go out and be the best every week," Allen said. "You have to be self-motivated. You play because this is your job and what you're supposed to do."
Allen is hoping to help the Bears finish in the top 10 in run defense—they fell from 11th to 16th after allowing 194 in a loss to the Cowboys—and wants to double his current sack total of five to reach double digits for the eighth straight season.
"We've got Monday Night Football, which is always fun," Allen said. "You get to play against a team with Drew Brees, fighting for a playoff position, and I like spoiling people's seasons. If mine's spoiled, I'd like to spoil theirs.
"It's football. It's fun. We play this game because we love it. There can only be one champion. Unfortunately, we're not going to be that champion this year. But it still doesn't mean you lay down and think about next year. You have to represent yourself. You have to represent this team. You're a professional. We're out there to win football games and we have three left and that's our goal to win three of them."
Under the lights: The Bears hope to continue their success on Monday Night Football. After compiling a 6-15 record on MNF from 1991-2007, they are 10-2 including 5-0 at Soldier Field.
In two seasons under Trestman, the Bears are 3-0 on MNF, beating the Packers 27-20 and the Cowboys 45-28 last year and the Jets 27-19 this year.