On the morning of Friday, October 7, 2005, the Bears brought in five placekickers for an emergency tryout at Halas Hall. The team was seeking a temporary replacement for injured starter Doug Brien, who was dealing with a sore back. One of the players in the workout, Steve Christie, had kicked in a pair of Super Bowls a decade earlier for the Buffalo Bills. Another, Martin Gramatica, was a former Pro Bowler who had led the NFL in scoring in 2002 as a member of the Tampa Bay Buccaneers.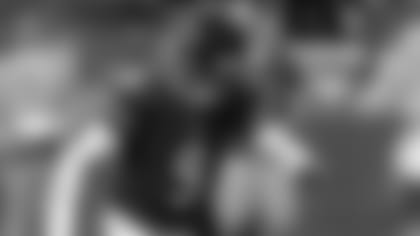 Robbie Gould has made 243 field goals over his career with the Bears.
As the veteran players were stretching out and attempting chip shots from 20 yards away, an unknown kicker was catching the eye of the team's coaches, front office personnel and players by drilling high-arching, 40-yard bombs through the uprights. The performance was enough for the Bears to spurn the well-known commodities and offer a contract the following day to a 23-year old player who had been undrafted the previous spring after making only 64 percent of his field goal attempts in college. Gould originally signed out of college with the Patriots, but he wasn't going to unseat Super Bowl hero Adam Vinatieri. So Gould had found temp work at a construction company in Lock Haven, Pennsylvania.
A day after signing, Gould made his pro debut in Cleveland. He made a 44-yard field goal in the second quarter and kicked an extra point in the third in a 20-10 loss to the Browns, dropping Chicago's record to 1-3. Still, the Bears coaches liked what they saw; the 35-year old Brien was cut on October 12 and never kicked in the NFL again.
A week after the loss at Cleveland, Gould made four extra points in a 28-10 win over Minnesota. The victory was the start of an eight-game winning streak that turned the Bears into the 2005 NFC North champions.
"We went on a winning streak once I got here. Not to say I was good luck charm or anything, but it was fun to be a part of that run," Gould said.
Now 33, the kicker has been through a lot since that tryout. He is set to enter his 11th season with a team where he is the most-tenured member. The player who barely made two-thirds of his kicks in college has been remarkably consistent as a pro, making 86 percent of his career field-goals attempts.
But after a rough go last season, Gould is looking to bounce back. He'll do so by returning to the basics that have defined his career.
A mental edge
Gould enters the 2015 season on the verge of history. Over the course of his career, he has made 243 field goals, the exact same number that ex-Bear Kevin Butler made during his time in Chicago. One more three-pointer and Gould will be the all-time kicking leader for the oldest franchise in professional football.
But Gould says he is not worried about the record. Nor is he concerned with thinking about his tough 2014 campaign, where he scored a career-low 55 points and missed the final four weeks of the year because of a right quad injury. Prior to the injury, Gould didn't make a field goal in five consecutive games, the longest drought of his career.
"Last year was last year, I'm over it. On to the next," Gould said. "I just want to make the next kick and do my job so I can help the team win."
Instead of reflecting about the past or his place in history, Gould is emphasizing the work which made him a terrific player in the first place. He said he is fully healthy, and his workouts in training camp showed it. The kicker routinely drilled long field goals and booted kickoffs into the end zone during training camp practices. Besides being physically well, the kicker is also mentally healthy, which is a key to his personal success.
"I just try to have fun," he said. "If I'm too uptight, I'm not going to play very well. So for me, it's about going out and enjoying it, trying to do what you're supposed to do.
"I'm a kicker and don't get hit a lot, I take pride in staying in as great of shape as I possibly can."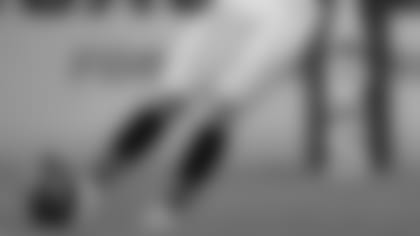 Gould was a key member of the team that reached Super Bowl XLI.
Former Bears long snapper Patrick Mannelly knows Gould as well as anyone. The two were teammates and special-teams compatriots for nine seasons before Mannelly retired following the 2013 season. During that time, Mannelly saw up close what makes Gould tick and how the kicker works to constantly improve.
"Physically, Robbie is one of the hardest workers I've ever been around," Mannelly said. "He is always doing something to better himself, whether it's some sort of rehab or training. He's always doing something physically to make sure he can be as healthy as he can. I think that's helped him getting to this level."
One of the skills that helps Gould continuously strive to be better is a good short-term memory. No matter if it's a make or miss, he doesn't let his last kick impact his next one. Instead, Gould takes the field every time trying to be fundamentally sound, trusting the process he has honed over many years.
Mannelly said that Gould has a unique skill of not letting bad things linger. He always felt that if the kicker missed one, he'd go back out there and make his next eight.
Gould felt that mental hurdle was something he has picked up as his career has progressed. "I think you get used to figuring out how to get your body in shape," Gould said. "You find things that work for you, things that don't."
The mentality to forget and move on should make Bears fans confident Gould will be just fine this season, even as the game becomes tougher to kickers. For the first time in 2015, extra points will be kicked from the 15-yard line.
"He's a veteran, he knows it goes year-to-year," Mannelly said. "I guarantee he will have another successful year like he has every other year he's played."
Return to form
A year after signing with the Bears, Gould was a key member of the team that reached Super Bowl XLI. In the Divisional Round of those 2006 playoffs against Seattle, Gould made a 49-yard field goal in overtime to win the game, one of the most memorable and important kicks in Bears history.
Nearly a decade later, the pieces of that special team have spread out. The head coach is in Tampa, a cornerback is in Carolina, the kick returner is in Atlanta. Gould is the only Bear from the Super Bowl roster still remaining on the team. The kicker knows how far his career his come, going from an emergency tryout to playing on the world's biggest stage to being on the verge of having his name in the record books.
Gould insists though that he is still the same guy as the 23-year old that impressed coaches with his big kicks, just with a better understanding of how to find success.
"Not much of my strategy has changed since my rookie year," Gould said. "I've just been able to gain more knowledge of the game and grow as a veteran and a pro. Learn how to be a professional."
With an important year ahead of him, Gould is confident in his abilities to play at a high level. It's simple. He just has to keep doing what he's always done.