Since joining the Bears in 2005, Robbie Gould had converted all 82 field goals he had attempted from 33 yards or closer. That streak ended Sunday, but the veteran kicker made amends.
After missing a 33-yard attempt wide right early in the fourth quarter, Gould drilled a 41-yarder as time expired to give the Bears a stirring 23-22 comeback win over the Carolina Panthers.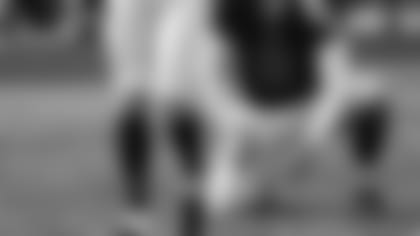 After today's game, Robbie Gould is now 13-of-15 (.867) on the season in field goal attempts.
"I'm very fortunate," Gould said. "If we would have lost the game because I missed a short field goal I'd be pretty upset about it first of all as a competitor but also because I don't want to let guys down that worked so hard in here to get a big win.
"We were looking to get to 6-1, and just because I missed a short field goal there's no excuse for it. That loss would have went on my shoulders, but we won and that's a good thing."
Gould has now made 10 game-winning field goals in the fourth quarter or overtime, including the playoffs. It was his first since Sept. 27, 2010 when he hit a 19-yarder with 3:59 left in a 20-17 win over the Green Bay Packers.
"Robbie Gould won't miss a lot of field goals, and that's why it was important for us to get him back in position," said coach Lovie Smith. "I've been on the sideline a lot of times when he's kicked the winning field goal."
Ribs didn't hurt: Jay Cutler declined to blame the bruised ribs he sustained last Monday night against the Lions for the poor performance by the Bears offense for most of Sunday's game.
Cutler threw one interception, lost two fumbles and was sacked six times in the first half. The Bears had negative passing yardage until late in the third quarter. For the game, he completed 19 of 28 passes for 186 yards with one touchdown, one interception and an 83.3 passer rating.
"I didn't really feel them," Cutler said of his ribs. "No one played well. I didn't play well. It starts with me. Offensively, those first three and a half quarters were just ugly.
"I don't think they really took anything away from us. We just didn't execute. Things were there. I was missing throws, dropped balls, didn't protect very well. So you go down the line. There was mistake after mistake. It's just something we have to clean up. We're a better team than that."
Avoiding Hester: The Panthers were determined to keep the ball out of Devin Hester's hands on special teams at all costs. Carolina's Jason Medlock repeatedly squibbed and pooched his kickoffs, giving the Bears excellent field position. But they failed to capitalize.
The Bears started three drives beyond their own 40-yard line following kickoffs—at the 43, 43 and 41. But they were unable to produce a single first down on the possessions that resulted in one lost fumble and two punts.
In last season's win over the Panthers, Hester returned a punt 69 yards for a touchdown and brought back a kickoff 73 yards to set up another TD.
"I know Devin lately hasn't had a lot of big returns for touchdowns, but it's just a matter of time," said coach Lovie Smith. "He scored on them last year. Whether he would have scored or not, they took that part of the game away. I know we had great field position, but you can't say much about their game plan. It kept them in a position to win."
The strategy burned the Panthers late as Brad Nortman shanked a six-yard punt off the side of his foot out of bounds at the Carolina 38 midway through the fourth quarter. The Bears responded by driving for a touchdown to spark their comeback.
Numbers game: The Panthers are now 0-13 the last two seasons when Cam Newton throws an interception. The second-year pro completed 20 of 39 passes for 314 yards with no touchdowns, two interceptions and a 57.0 passer rating. … When scoring a defensive touchdown, the Bears are now 19-2 since 2005 including 4-0 this season. … When the Panthers took a 10-7 lead early in the second quarter, it marked the first time the Bears had trailed in a game since their Week 2 loss in Green Bay, a span of 255:15.