Rain, wind and mud increased the degree of difficulty. But that didn't stop Robbie Gould from beating the Ravens 23-20 with a 38-yard field goal in overtime Sunday at Soldier Field.
"The conditions were definitely tough," Gould said. "When you get that amount of rain on the field, it's going to tear it up a lot. It was pretty soft. But everyone did a great job as a team handling it from offense and defense, and we definitely did a great job on the field goal unit blocking."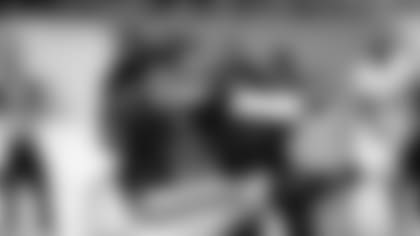 ](http://www.chicagobears.com/multimedia/photo-gallery/Bears-vs-Ravens/2207a9da-e7ac-42dd-bf0f-47cccc613b3e)

Robbie Gould hit a 38-yard field goal in overtime to give the Bears a 23-20 win over the Ravens. Click to view photos from the game.
Gould also credited holder Adam Podlesh and long-snapper Jeremy Cain, who replaced the injured Patrick Mannelly for the second game in a row. The winning kick capped the Bears' first possession in overtime with 8:41 remaining in the extra session.
Gould made all three of his attempts Sunday, hitting earlier from 20 and 46 yards. In the process, he leapfrogged Nate Kaeding to become the second most accurate kicker in NFL history at 86.3 percent. Gould has made 227 of 263 field goal tries, including 19 of 20 this season.
Gould has now made 11 game-winners for the Bears, including six in overtime. On Sunday, he aimed at the right goal post to account for a crosswind—and nearly missed because of it.
"I put it on the right upright, but for some reason the wind didn't want to bring it back as much and it barely snuck in," Gould said. "But they give you the whole upright for a reason."
Second wind: After a slow start Sunday, the Bears regrouped in their locker room during the 1 hour 53 minute weather delay. Players met by position and stretched before returning to the field.
"Our locker room was just outstanding," said coach Marc Trestman. "It was really quiet, very businesslike. The guys were very energized when they went out there. You would have thought we hadn't started the game yet. I was really proud of the guys the way they handled the change."
The break especially helped the offense, which had sputtered on its first two possessions. Some of the skill-position players took advantage of the extra time by conducting a mini walkthrough.
"When we heard how long it was going to be, we laid down for a little while and just stretched," said quarterback Josh McCown. "I closed my eyes and just tried to think about the game, visualize the game a little bit. I kind of assessed what happened the first two series and what we did wrong, why we didn't move the ball and what they were going to do to us."
Pep in his step: Veteran defensive end Julius Peppers had his most productive game of the season, recording a team-high 11 tackles, two sacks, four tackles-for-loss and two quarterback hits.
"It was good to see Julius today," Trestman said. "Julius played extremely hard, got a couple of sacks, was very physical, got some good push there."
The Bears recorded their third and final sack of the game when second-year pro Cheta Ozougwu burst off the edge and stripped the ball from Joe Flacco early in the third quarter.
The Ravens had reached the Chicago 32 and opted to go for a first down on fourth-and-eight. Flacco recovered the loose ball, but the Bears took over at their own 39.
It was the first career sack for Ozougwu, who played in two games with the Bears last season and was elevated from the practice squad on Saturday.
"We've had some fun with this 'next-man-up' concept, but it's really true," Trestman said. "Everybody that's on our roster is here because we think they can help us win."
Ground up again: The Bears' 31st ranked run defense struggled against the Ravens' 30th-ranked ground game, allowing 174 yards on 41 carries.
Ray Rice entered Sunday's game averaging 2.5 yards per carry with a long run of 14 yards. But he bolted for 47 yards on his first attempt against the Bears and finished with 131 yards on 25 carries.