Robbie Gould has kicked 10 game-winning field goals in eight seasons with the Bears, but there was something special about his 41-yarder in last Sunday's 23-22 win over the Carolina Panthers.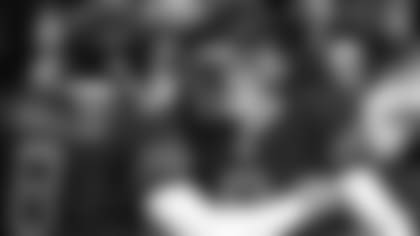 Robbie Gould celebrates with holder Adam Podlesh after beating the Panthers last Sunday.
The kick enabled the Bears to turn a deficit into a victory as time expired for the first time in 25 years—since Kevin Butler's 52-yard field goal beat the Green Bay Packers 26-24 on Nov. 8, 1987.

During that span, the Bears have won 17 games in overtime and eight with touchdowns or field goals in the final minute of the fourth quarter. They've also tied three contests as time expired in the fourth quarter they eventually won in overtime. But not since their 1987 victory in Green Bay had they won a game they had been losing with no time remaining on the clock.

Here are details on some of the games in which the Bears turned a late deficit into a win:

Dec. 6, 1987
Bears 30, Vikings 24
Mike Tomczak throws a 38-yard touchdown pass to Dennis Gentry with :40 left to rally the Bears past the Vikings at the Metrodome.

Sept. 23, 1991
Bears 19, Jets 13 (OT)
After Steve McMichael forces and recovers a key fumble, Jim Harbaugh rifles a six-yard touchdown pass to Neal Anderson as time expires to force overtime at Soldier Field. Harbaugh then wins it with a one-yard quarterback sneak in the extra session.

Oct. 27, 1991
Bears 20, Saints 17
Harbaugh, who wouldn't be nicknamed "Captain Comeback" until later in his career with the Colts, rallies the Bears again with a 12-yard touchdown pass to Tom Waddle with :54 to play in the Louisiana Superdome.

Sept. 6, 1992
Bears 27, Lions 24
Harbaugh and Waddle connect again, this time for a six-yard touchdown pass on fourth-and-five with just :01 remaining to lift the Bears to a win in the opener of what would be Mike Ditka's final season as head coach.

Oct. 8, 1995
Bears 31, Panthers 27
Robert Green's one-yard touchdown run with :38 to play lifts the Bears at Soldier Field.

Sept. 29, 1996
Bears 19, Raiders 17
Jeff Jaegar beats his former team with a 30-yard field goal with :11 remaining at Soldier Field.

Oct. 18, 1998
Bears 13, Cowboys 12
Jaeger lifts the Bears to another dramatic win with a 29-yard field goal, again with only :11 to play at Soldier Field.

Oct. 3, 1999
Bears 14, Saints 10
Shane Matthews throws a six-yard touchdown pass to Curtis Conway with :07 left at Soldier Field.

Nov. 4, 2001
Bears 27, Browns 21 (OT)
Matthews heaves a Hail Mary pass that's caught by James Allen for a 34-yard touchdown as time expires, forcing overtime at Soldier Field. Remarkably, Mike Brown then returns an interception in overtime for a TD for the second straight week.

Sept. 8, 2002
Bears 27, Vikings 23
Jim Miller fires a nine-yard touchdown pass to David Terrell with :28 left in Champaign in the season opener.

Nov. 24, 2002
Bears 20, Lions 17 (OT)
Edinger boots a 22-yard field goal as time expires to force overtime, and then kicks another field goal in the extra session in Champaign as the Bears snap a eight-game losing streak.