When Kyle Long arrived at Oregon in 2012, Ducks center Hroniss Grasu helped him assimilate both on and off the football field. Three years later, Long is returning the favor with the Bears.
"Since the night I got drafted he's been helping me every single day and treating me like a little brother," said Grasu, who was selected by the Bears in the third round of this year's draft.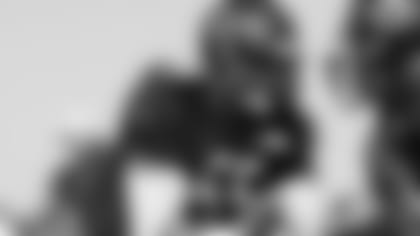 Rookie center Hroniss Grasu is learning from Kyle Long and other Bears veterans.
"The roles have changed. I helped him out at Oregon and as soon as I got here he's helping me out doing everything he can to make me feel comfortable and just try to be the best player that I can be."
The two close friends traversed much different paths to the NFL. While Grasu started all 52 games he played over four seasons at Oregon, Long made just five starts for the Ducks in 2012 after spending the previous two years at Saddleback College, a community college in Mission Viejo, Calif.
Chosen by the Bears in the first round of the 2013 draft, Long has started 31 games at right guard and become the first offensive lineman in franchise history to be voted to the Pro Bowl in each of his first two seasons.
With impressive credentials like that, Long is a valuable resource for Grasu. One key piece of advice the veteran recently imparted on the rookie involved the importance of attacking defenders.
"Don't let him attack you; you attack him," Grasu said. "You cause the collision. Don't catch the guy; go and punch him. Give him that shot at the line of scrimmage.
"That's why he's such a good player because that's what he does. If I could do that I'll be a lot better football player."
Another aspect of his game that Grasu is honing in training camp is finishing blocks.
"Once I get on a guy, don't let him make a play," Grasu said. "I'm working on that and hand placement and pad level and just finishing every single play."
Long isn't the only veteran that Grasu is learning from in training camp. He's fortunate to play the same position as center Will Montgomery, who has appeared in 106 NFL games with 71 starts over 10 seasons with the Panthers, Jets, Redskins and Broncos.
"I'm learning a lot; just how he approaches every single day, and how he approaches watching film and getting ready for practice," Grasu said. "He's a 10-year vet and he knows exactly what to do. He's seen it all.
"I'm always trying to pick his brain. After film I always go up to him and have a question for him and he always has an answer for me. He's been a huge help for me and a blessing to help me learn from him. He's a great team leader and a great player as well."
Montgomery believes that Grasu has a bright future in the NFL.
"I think he has all the potential in the world," Montgomery said. "He's a quick guy. He's got good hands, good leverage. I think he's going to be a good player in this league."