Bears coach John Fox confirmed Monday that center Hroniss Grasu will miss the entire season after tearing his right ACL during Saturday's Family Fest practice at Soldier Field.
"It's a punch in the gut anytime you lose a player, especially you feel bad for the kid," Fox said. "He's worked very hard to earn that spot and he's a fantastic teammate as well as a player."
A second-year pro who was expected to start this season, Grasu was injured during 11-on-11 team drills when his leg buckled as he ran downfield to block on a screen pass.
"It was a tough one," quarterback Jay Cutler said Monday. "I've played with a lot of guys and he's one of my favorites, even with a short amount of time. Had a hard time with that one yesterday, getting over that. I think guys are probably still feeling the effects today."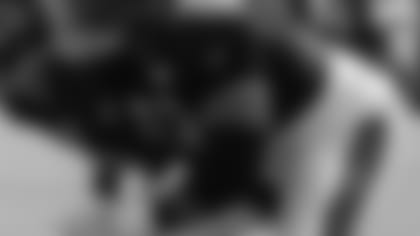 Ted Larsen has appeared in 86 games with 57 starts over the past six seasons with the Buccaneers and Cardinals.


After being selected by the Bears in the third round of last year's draft out of Oregon, Grasu started eight games as a rookie but missed three contests with a neck injury and one with a knee injury.
Expectations were high for Grasu this year after he bulked up to 310 pounds during the offseason while also gaining a better grasp of the offense, which was allowing him to play faster in practice.
"He's everything you talk about when you talk about a team guy, kind of the core of the offensive line," Cutler said. "I've dealt with him on a day-to-day basis. He's worked so hard to get to this point and you're expecting great things from him and then unfortunately things like this happen.
"We've got to move on. He's still going to be around I'm sure and he'll be part of the team. But we've got to find somebody to fill his shoes."
The most logical replacement for Grasu is veteran Ted Larsen, who signed with the Bears in March after appearing in 86 games with 57 starts the past six seasons with the Buccaneers and Cardinals. The versatile lineman has played center and both guard positions in the NFL.
"He's a pro," Cutler said. "He stepped in today and worked with me and the ones and we didn't miss a beat. We're going to be fine there. Ted's going to step in do a good job for us."
Larsen last played center with the Buccaneers, starting nine games in 2012 and two in 2013. The 6-2, 315-pounder lined up at guard the past two seasons with the Cardinals.
"He's started in the league before," Fox said. "That's why we signed Ted; he's an experienced lineman. He's a veteran guy who came from a winning team. We have great confidence in what Ted can do."
Fox said Monday that rookie second-round pick Cody Whitehair will remain at left guard for now but likely will also get some first-team reps at center as well.
Regardless of who replaces Grasu, Fox conceded that a transition period will be necessary.
"There will be some growing pains," said the Bears coach. "Anytime you lose a guy, somebody else has to step in, whether it's at receiver, quarterback, o-line. There will be some growing pains, but we'll feel comfortable and we'll adjust and move on."
Cutler anticipates the assimilation process will be a smooth one.
"I just haven't taken a lot of snaps from him," said the Bears quarterback. "So that's just getting a feel for the tempo I like to go at and my verbiage, but we'll get that. We have plenty of time.
"If you've got a veteran guy like we do in Teddy, that speeds up the process. He's been there. He's done it. He knows the calls. It's just a personal relationship with me and him now of getting everything down and in sync. That will take a little bit of time, but we'll make it happen."