When it comes to stripping the ball from opponents, Pro Bowl cornerback Charles Tillman may have some competition on the Bears defense this season.
Fourth-round draft pick Khaseem Greene, a safety-turned-linebacker, forced an all-time NCAA record 15 fumbles while playing in 51 games with 39 starts over four seasons at Rutgers.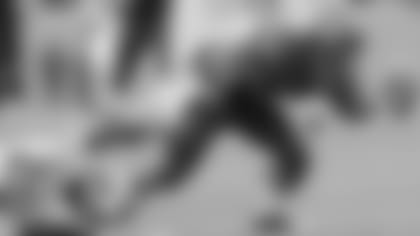 Khaseem Greene forced six fumbles last season, increasing his career total at Rutgers to 15.
"It's an amazing stat, 15 in a career," said Bears general manager Phil Emery. "That's difficult to do. Obviously with the style of defense we play, our eyebrows went up [when Greene was still on the board]. Here's a guy that really fits what we're trying to do."

After starting all 13 games at safety in 2010, Greene moved to weakside linebacker and was voted the Big East defensive player of the year each of the past two seasons.

In 2011, he led the conference with 141 tackles while also recording 14.5 tackles-for-loss, 3.5 sacks and four forced fumbles. Last year Greene registered 136 tackles, 12 tackles-for-loss and six sacks with five pass breakups, two interceptions and six forced fumbles. He also scored touchdowns on two of three fumble recoveries.

"I don't give up on any plays," Greene said. "My mentality is I want to get the ball back and I want to get it to my offense or it would be even better if the defense could pick it up and score.

"That's my philosophy when it comes to defense is getting to the ball, creating takeaways and then just going from there. It's always instilled in my head. It's something that I worked on for the last five years at Rutgers and I'm definitely going to still work on it going forward from here."

Passing fancy: In an ideal world, Emery would draft a quarterback every year. But with only five picks entering the 2013 draft, the Bears general manager didn't have that luxury.

"Going into the draft it was more of a question, would we accumulate enough picks to go in that direction?" Emery said. "With five picks and the number of players that we wanted to add and the positions we wanted to add them in, I don't know how practical that was. It had to be the right value for the team. Things would have to line up perfect to take a quarterback with five picks."

After selecting Oregon guard Kyle Long in the first round, Florida linebacker Jon Bostic in the second and Greene in the fourth, the Bears traded down 10 spots in the fifth round, acquiring a seventh-round pick from the Falcons.

But that deal came after quarterbacks Matt Barkley, Ryan Nassib, Tyler Wilson and Landry Jones all had been taken in the first half of the fourth round.

"The run of quarterbacks had stopped at that point," Emery said. "But I'll also tell you that given a player on the board, the value of that player on the board, where we were able to pick him relative to the current strength of our quarterback roster, we felt very good about where we were at."

Father knows best: Hall of Fame defensive end Howie Long is convinced that the Bears would not have been able to trade down into the second round and still draft his son, Kyle.

Seven offensive linemen had already been selected when the Bears went on the clock at No. 20, and several teams behind them were at least considering the position. Long was picked immediately after the Giants chose Syracuse tackle Justin Pugh at No. 19.

"I knew when Pugh came off the board as the fifth tackle and the two guards (Jonathan Cooper and Chance Warmack) were off the board, I kind of felt like—and I won't share the two or three teams that were picking after Chicago—but I felt like it was really a good opportunity that Kyle would go somewhere between 20 and 28, 29, without tipping my hand," Howie said.

"But he would have been off the board. I've heard people say, 'Well, they should have traded down and got him in the second round.' [But] he wouldn't have been there."

Extra motivation: Having a father who's in the Hall of Fame and an older brother (Chris) who's a star defensive end with the St. Louis Rams, Kyle knows that more is expected from him. And he's just fine with that.

"Some people have a chip on their shoulder; I feel like I have a lumberyard on my shoulder," Kyle said. "Growing up in the house that I did with my older brother and my dad being who they are in the football community, there are great expectations from an athletic standpoint but also from a charity standpoint and all the above.

"I feel that's really pushed me to come in with a drive and an intensity and a focus. I try to improve every day. If you're making a profit every day then you can't go broke."