Battling for a job at linebacker, Bears second-year pro Khaseem Greene strives to leave a lasting impression every time he steps onto the practice field at training camp.
"You want to do something to show the coaches you can make plays," said Greene, a 2013 fourth-round draft pick who's been working primarily at the weakside position behind perennial Pro Bowler Lance Briggs.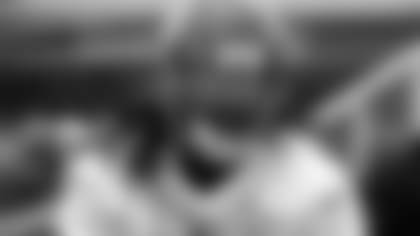 Khaseem Greene hauls in an interception during practice at training camp.
"This defense we have here is all about causing turnovers, scoring and putting the offense in position to score and do what they do best. So it's definitely a goal for me every day to do something on film to show the coaches that, 'Wow, he can play.'"
Bears coaches may utter those exact words when they watch tape of Saturday's practice. Late in the session, Greene jumped a slant pattern, deflecting Jordan Palmer's pass into the air and then intercepting it. As Greene raced toward the end zone, one veteran teammate yelled, 'That's the play of the year!'"
"Prior to the play the corner told me to be ready for a slant, so I was already aware of it," Greene said. "Once I saw the three-step [drop], I just broke flat and got my hand on it. When I tipped it, I saw the ball still [was close] so I just put my hands out and caught it."
The same ball skills Greene displayed in Saturday's practice were evident throughout his college career. At Rutgers, he set an NCAA career record with 15 forced fumbles while being voted Big East defensive player of year each of his last two seasons after moving from safety to linebacker.
"I just want to cause turnovers," Greene said. "That's something that I try to do every day. Every time I'm out on the field, every time I'm around the ball either I'm trying to catch an interception or force a fumble. That's just kind of the mentality I have."
Plays like the one Greene made Saturday certainly won't hurt his chances of earning a job. But coach Marc Trestman would like to see the young linebacker produce them on a regular basis.
"Players have got to stack practices with competition over time," Trestman said. "Everything is certainly documented. We're watching everything. We want Khaseem to put back-to-back practices together like he did today and make plays like that and show he can do it on a consistent basis.
"We were in shorts today, so there's a segment of football we're not playing, but certainly that's a play that catches your eye. That was a very good play by Khaseem."
Last season as a rookie, Greene was forced into the starting lineup following injuries to Briggs and D.J. Williams. The Rutgers product appeared in all 16 games with four starts, recording 38.5 tackles, one interception and one forced fumble.
With a year of experience under his belt, Greene is much more comfortable in the defense.
"It's made me a more confident player," he said. "It made me feel like I can do this and I belong here, I belong out here with the guys. Whether it's first team, second team, wherever the coaches put me, I belong here. There's no uncertainty. Now it's about just going out and proving it every day."