As the Bears prepare to kick off the 2014 regular season on Sunday afternoon, one of their greatest strengths is at wide receiver. A year ago, the Bears had 4,281 net passing yards – the most in franchise history – thanks in large part to the play of their talented pass-catchers. Brandon Marshall became the first Chicago receiver to have consecutive seasons with 100 or more receptions, while Alshon Jeffery recorded the two highest single-game receiving yardage totals in Bears history.
Following a recent practice, ChicagoBears.com caught up with second-year wide receivers coach Mike Groh to discuss the team's key players at the position and the unit as a whole.
What is different for you personally as you enter your second season in Chicago?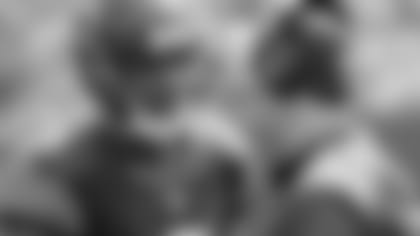 Wide receivers coach Mike Groh chats with Brandon Marshall on the sidelines.
I think that being familiar with the calendar of the NFL and having to work with these guys for a year. You get to know their personalities and that makes everything a lot more smooth.
Why is the rapport between a wide receiver and quarterback so important, such as the one between Brandon Marshall and Jay Cutler?
Well those two - Jay and Brandon , you know - they have played together a long time, so it's just the subtleties. And really, it's the ability of the quarterback to read the body language of the receiver and those two have got it down. They could probably complete passes with their eyes closed. Any time you're around great players like this, it makes my job as a coach easier.
Where has Alshon Jeffery improved the most as player since you started as the team's wide receivers coach?
I love his work ethic. The guy is a true pro in that he shows up to the building every single day. When he steps on the practice field, he's all business. He's working the entire practice, whether that's in the offensive period or he's off to the side working little drills. He's really trying to master his craft.
What has impressed you so far in what you've seen from Santonio Holmes?
Santonio is going to be a great addition for us. He certainly brings us a lot of experience. He's played and made plays on the biggest stage, in the Super Bowl. He brings that experience to us. And he showed in Cleveland (in the Bears fourth preseason game) that he still has a lot of juice left.
How do Marshall and Jeffery complement each other well on the field?
You know, we don't talk about that here in the organization. All we talk about is trying to improve each and every day and trying to grow together as an offense. Certainly when you put a game plan together, it's a lot of fun because we have a lot of weapons. I think it causes defensive coordinators a lot of sleepless nights trying to game-plan for the set of skill players that we have.
In what areas can the team's wide receivers improve as a unit this season?
Well there's always room for improvement. I think I've said this before, so I apologize if it's redundant, but it's just in the little things; a lot of the details that to the casual observer or the casual fan that they wouldn't notice. Any time that you spend as much time on something and you've reached the level that they have in terms of performance, they don't grow leaps and bounds. It's just the fine tuning of things, subtleties of technique and really owning that part of the game.