With Kyle Fuller on injured reserve, the Bears will employ an all-hands-on-deck approach in defending star Lions receiver Calvin Johnson Thursday at Ford Field.
"To try to slow him down is going to be a group effort," said defensive coordinator Mel Tucker. "Everyone has to play well and execution has to be at a high level. We've got to do a great job with the game plan. Guys have to play hard.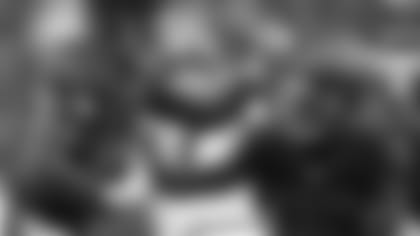 Christian Jones celebrates a fumble recovery with Demontre Hurst Sunday against the Buccaneers.
"They have an excellent quarterback (Matthew Stafford) and you can't make mistakes against these guys. They're very explosive. We're not going to leave it up to one guy. We're going to rally, play good team defense and play hard and be where we're supposed to be and get it done as a group."
That group effort may not include rookie cornerback Kyle Fuller, who exited Sunday's win over the Buccaneers with a knee injury and could be a game-time decision Thursday. Rookie Al Louis-Jean replaced Fuller against Tampa Bay and could start opposite Tim Jennings in Detroit.
"Al came in, I thought he flew around," Tucker said. "He tried to finish some plays, tried to top off some piles like we ask our guys to do to finish through the whistle. He played with confidence and we have confidence in him to go in and make plays for us."
The Bears aren't the only ones who are hurting. Johnson has been bothered by an ankle injury since Week 3, missing three games and compiling only 59 and 58 yards with no TDs the past two Sundays. Regardless of his status, the Bears will keep an eye on the four-time Pro Bowler, who was often held well below his season averages by Tillman.
"We just have to know where he is at all times," Tucker said. "Obviously they like to get him the ball. But just be where you're supposed to be, do your job and play fast and be decisive and be aggressive and go to aggressively make plays."
Status quo: There were no changes on the Bears' injury report from Monday to Tuesday.
Although the team did not practice, seven players would not have been able to participate if a workout had been held: Fuller, linebacker Lance Briggs (groin), guard Brian de la Puente (ankle), defensive tackle Jeremiah Ratliff (knee), defensive end Trevor Scott (knee), linebacker Darryl Sharpton (hamstring) and receiver Chris Williams (hamstring). Receiver Brandon Marshall (ankle) and safety Brock Vereen (shoulder) would have been limited.
Like Fuller, Briggs could be a game-time decision. He was replaced against the Buccaneers by Christian Jones, an undrafted rookie from Florida State.
Stepping up: In recent weeks, the Bears have been getting contributions on defense from young unproven players such as Jones, defensive end David Bass and nickel back Demontre Hurst.
"It's been a process," Tucker said. "We feel good about the guys we have here and what they can become and what they can do.
"The guys want to do well when they go in there, and it's important for them. You see a number of young guys stepping up and improving. That's a good sign for us. With the young guys, they have to play well now when they get the opportunity. They need to go in and produce because the league doesn't care how much experience you have or don't have; it's really a production-based deal.
"I'm really encouraged by what these guys have done when they've gone in games to step up and make plays for us."
Showing improvement: One veteran who has played better of late is safety Chris Conte, who intercepted a Josh McCown pass Sunday, the first of four Bears takeaways.
"I think he's moved along and is playing at a much more sufficient level for us on a week-to-week basis, and playing with more confidence," Trestman said. "He's been physical at the line of scrimmage when he's had opportunities to make some tackles. He's trying to get better like all the rest of us, but I think he's made some movement in the right direction, certainly."