For the first time in two months, Bears rookie cornerback Deiondre' Hall is not listed on the injury report.
"It's a great feeling to not be on it," said Hall, who has missed the last eight games with an ankle injury. "I'm just waiting for my chance to get back out there on the field."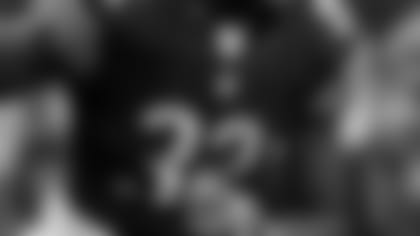 Deiondre' Hall recorded his one interception against Lions quarterback Matthew Stafford.


The fourth-round draft pick from Northern Iowa played sparingly in the first four games of the season, recording three tackles, one interception and three pass breakups. His pick came against this week's opponent, quarterback Matthew Stafford, in a Week 4 win over the Lions.
"It's a crazy feeling because it's my rookie year and I was real eager to play coming in," Hall said. "I got a little bit of time early and made a few plays and then to get that injury and have significant time out really [stunk]. I've got a real sense of urgency to get back out there."
It's not clear how much if at all Hall will play Sunday in Detroit. But the 6-2, 201-pounder will definitely be counted on to play a key role on defense at some point.
"He's a guy who we think has a bright future," said coach John Fox. "He has good length. He has good ball skills. We had him primarily in the red area because of that length. He's a bigger body who can do some low safety type of work as far as matchups as well as outside as a corner. Those are things we'll lean on moving forward if he's healthy."
Weak link: Hall's interception is one of only eight takeaways the Bears have forced this season. The only NFL team that has produced fewer is the Jaguars with seven.
"That's probably our weak link right now," Fox said. "It's something that we've preached. You've probably seen improvement over the last year and three-quarters on defense in a lot of areas. But takeaways is one that we need to continue to get better at."
The Bears have not generated a takeaway in their last three games and have only one—a Harold Jones-Quartey interception—in their last five contests.
"It's about playing fast," Fox said. "Sometimes when you're young and learning, there's a decision-making process that may slow that down. I'm not saying that's technically our deal. But we've adjusted scheme-wise as well. That can kind of slow the process down. I think the more conditioned they get to play NFL football I think will get us closer to balls."
Never easy: In 15 years as an NFL head coach in Carolina, Denver and Chicago, the only time that Fox has had back-to-back losing seasons has been the last two years with the Bears.
"That's never easy," Fox said. "That's never easy on coaches. It's never easy on players. It's never easy on the fans. It's never easy on the writers. But it's just what it is.
"We've got four games remaining, three of those being division games, the other one being a conference game. All those remaining opponents have something to play for and we'd like to be spoiler even if it's just creating momentum for next season."
Fox acknowledged that 31 of 32 teams will not be satisfied when the season is over.
"There's only one happy camper in this league at the end of the year," he said. "It's unlike college football. It's unlike a lot of things. Regardless of how far you go, what your record is, at the end of it, there's only one winner, and that's it. So unless you're that team, it's all difficult."
Injury update: Receiver Eddie Royal (toe) and tackle Mike Adams (back) did not practice Friday and are listed as doubtful on the injury report for Sunday's game against the Lions.
Receivers Marquess Wilson (groin) and Joshua Bellamy (shoulder), linebacker Jonathan Anderson (hamstring) and cornerback Johnthan Banks (ankle) were all limited and listed as questionable.