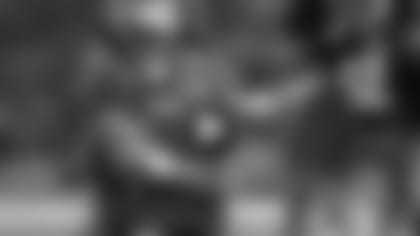 The final segment of ChicagoBears.com's five-part video series "Inside Rookie Minicamp" features the last of three practices and highlights safety Brandon Hardin and quarterback Matt Blanchard.
The Bears selected Hardin the third round of the draft out of Oregon State. He missed the entire 2011 season with a broken shoulder, an injury that required surgery. He did return, however, to play in the East-West Shrine Game in January.
"I learned a lot about myself personally, how I would act in this time that was beyond challenging for me," Hardin said. "[It was] my senior year; I expected to play. This was my audition for the NFL and it was beyond tough. But I learned a lot about myself [and] eventually pulled through."
"Inside Rookie Minicamp" is brought to you by Lexus. It gives fans unprecedented access to Bears players and coaches. Viewers will be taken inside Halas Hall to meeting rooms, the locker room, weight room, equipment room, lunch room and practice field.
In the final part of the series, the Bears sign Blanchard to a contract after the Lake Zurich native participates in the rookie minicamp on a tryout basis.
"We watched how he carried himself," said offensive coordinator Mike Tice. "We were very impressed with his poise. We were very impressed with how he took things from the meeting room and went out on the field and did those things. It was obvious that this young man knew football." Blanchard grew up in the Chicago area, starring at Lake Zurich High School. The 6-3, 225-pounder initially attended Northern Michigan before transferring to Wisconsin-Whitewater, where he won all 25 of his starts in two seasons while throwing 44 touchdown passes and just six interceptions.
"With the numbers as far as my position and everything going on, being unsigned and undrafted and all that stuff, I was just coming out here and looking to put my best foot forward," Blanchard said. "I was looking forward to the opportunity to show my skill set."